Estrella Jalisco Presents
Phoenix Unknown: World Food & Music Night Market
September 13, 2019
7:00 pm
All Ages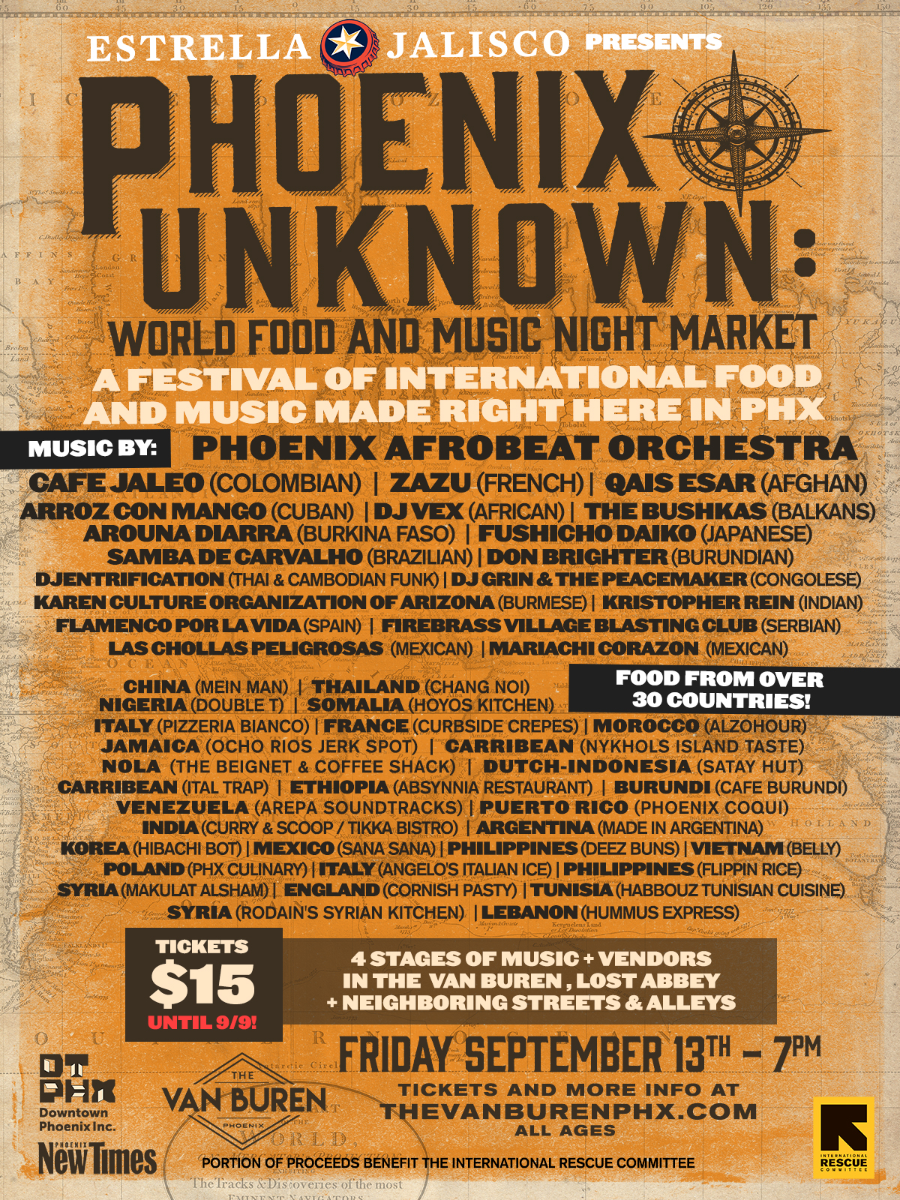 $10-20
Few Notes About the Event:
- Doors open at 7pm. Get here early to avoid long lines.
- Food tickets will be available to purchase on 4th Avenue at The Van Buren Box Office. You must purchase tickets for food, vendors will not be accepting cash or card for food.
We will not be allowing:
- Outside Food or Drink
- Lawn / Collapsible Chairs
Parking is limited around The Van Buren, if at all possible please use the light rail.
Join The Van Buren for the first ever Phoenix Unknown: World Music and Night Market Presented by
Estrella Jalisco
on Friday September 13th from 7pm-12pm!
20 International Bands will play across 4 stages at The Van Buren and surrounding alleys, including the Lost (Monroe Street) Abbey!
Plus food vendors representing over 30 countries all from local Phoenix businesses.
Food Vendors:
CHINA (Mein Man)
THAILAND (Chang Noi)
NIGERIA (Double T)
SOMALIA (Hoyo's Kitchen)
ITALY (Bianco Pizzeria)
PHILIPPINES (Flippin' Rice)
FRANCE (Curbside Crepes)
MOROCCO (Alzohour Restaurant)
ITALY (Angelo's Italian Ice & Gelato)
KOREA (Hibachibot)
MEXICO (Sana Sana: Food Medicine for the People)
JAMAICA (Ocho Rios Jerk Spot)
CARRIBEAN (Nykhols Island Taste and Some)
NOLA (The Beignet and Coffee Shack)
DUTCH-INDONESIA(Satay Hut)
ENGLAND (Cornish Pasty Phoenix)
VIETNAM (Belly)
PHILIPPINES (Deez Buns)
AFRICA (WaaMo Restaurant)
ETHIOPIA (Abyssinia Restaurant and Cafe)
VENEZUELA (Arepa Soundtracks)
PUERTO RICO (Phoenix Coqui)
ARGENTINA (Made in Argentina cocina Argentina)
LEBANON (Hummus Xpress)
CARRIBEAN (The Ital Trap)
INDIA (Curry & Scoop / Tikka Bistro)
POLAND (Phoenix Culinary Collective)
SYRIA (Makulat Alsham)
TUNISIA (Habbouz Tunisian Cuisine)
BRUNDI (CAFE Burundi African Restaurant)
SYRIA (Rodain's Syrian Kitchen)
Plus a special aftershow party at Ziggy's Pizza (Adjacent to The Van Buren) FREE at Midnight featuring M.Rocka & Mello - Playing Cumbia, Reggeton, Moombahton, Salsa and Merengue!
Brought to you by Downtown Phoenix, AZ and Phoenix New Times --- Portion of proceed go to the International Rescue Committee in Phoenix
This event is All Ages (12 & under admitted with parent/legal guardian)
Phoenix Unknown: World Food & Music Night Market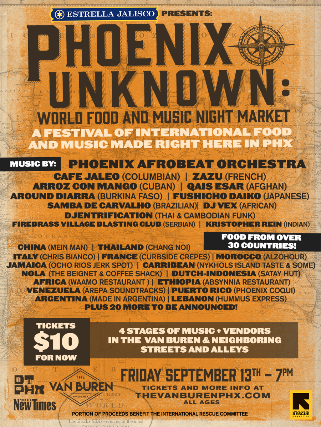 PHOENIX AFROBEAT ORCHESTRA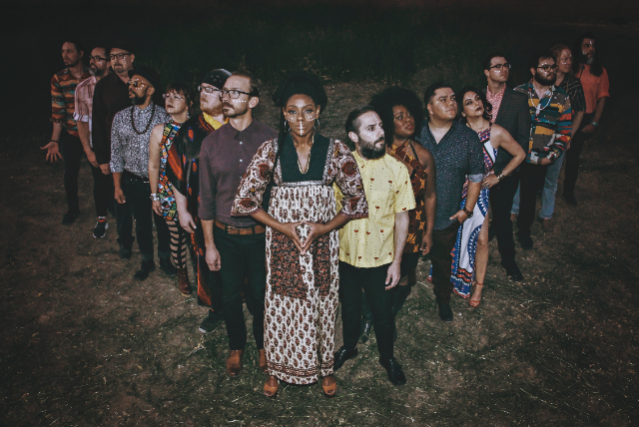 Cafe Jaleo