Psyko Steve Presents
The Maine presents The Mirror with This Wild Life and Twin XL
November 30, 2019
7:00 pm
(Doors:

6:00 pm

)
Ages 13 and Up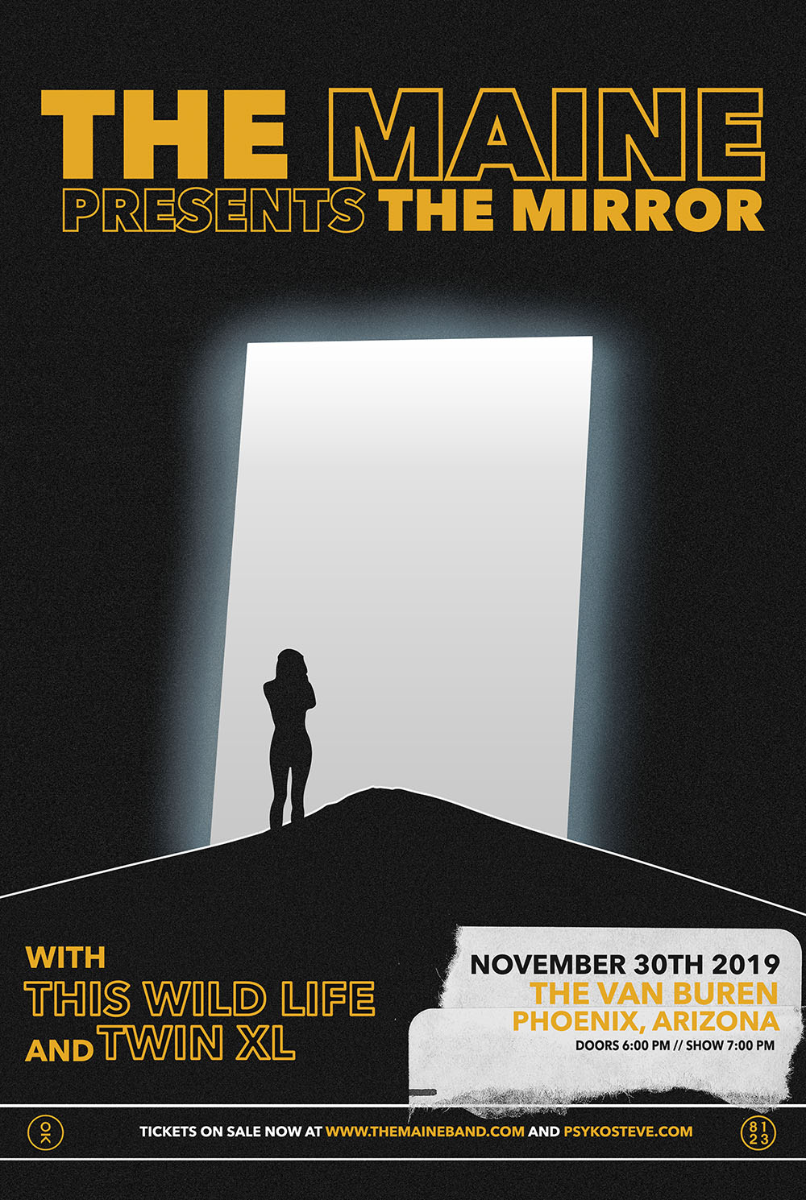 Advance Price: $26 + Fees / Day of Show Price: $30 + Fees


This show is Ages 13 and up (12 and under admitted with guardian)
The Maine
The Maine is an American rock band from Tempe, Arizona. In their eight years together, The Maine has released four full-length albums, including their major label debut "Black & White" in 2010. The band expanded their musical realm into production which resulted in their fourth EP, the self-recorded and produced "Imaginary Numbers" (2013). Over the years, they have toured across the globe as well as extensively on home soil in the US; both as headliners and in support roles. The Maine has shared the stage with the likes of Taking Back Sunday, Anberlin, A Rocket To The Moon, Augustana, and many more. The band has made numerous festival appearances including the Vans Warped Tour, Bamboozle, and South by Southwest. The Maine is recognized within the industry for the close relationships they build and maintain with their fans -- many of whom are now college age and have grown up alongside the band. The Maine is John O'Callaghan, Pat Kirch, Kennedy Brock, Garrett Nickelsen, and Jared Monaco.
This Wild Life
This Wild Life have only been around since 2010 but they've already had multiple lives. The duo of Kevin Jordan and Anthony Del Grosso met as outcast drummers in their hometown of Long Beach, California, and eventually formed a well-received punk act. They started to notice that their fans seemed to gravitate toward the duo's acoustic material, which inspired them to form This Wild Life six years ago. Their 2014 Epitaph Records debut album Clouded saw them transitioning from stage dives to sing-alongs, and their follow up album 2016's Low Tides showed the duo taking their songwriting to the next level by fleshing out tracks with expanded arrangements and inventive instrumentation.

The duo have lived with their records for the last four years and decided what they love and what they don't about them. Early on in the writing process for Petaluma they made a mutual decision to make a record that felt brighter, more uptempo, and something they would personally want to listen to every single damn day. They limited the arrangements to only instruments that can physically be played. You would think having these limits in place would've confined them, but the opposite occurred. It opened the door to some of their most honest and explorative songwriting to date.

Suggestion from the band about Petaluma, "Listen to it loud with the windows down, on Sunday mornings when you're cleaning up around the apartment, or throw on some headphones and find some comfort in its escape."
Twin XL