Stateside Presents & Live Nation
Paulina Rubio - Deseo Tour
September 14, 2019
8:00 pm
(Doors:

7:00 pm

)
Ages 13 and Up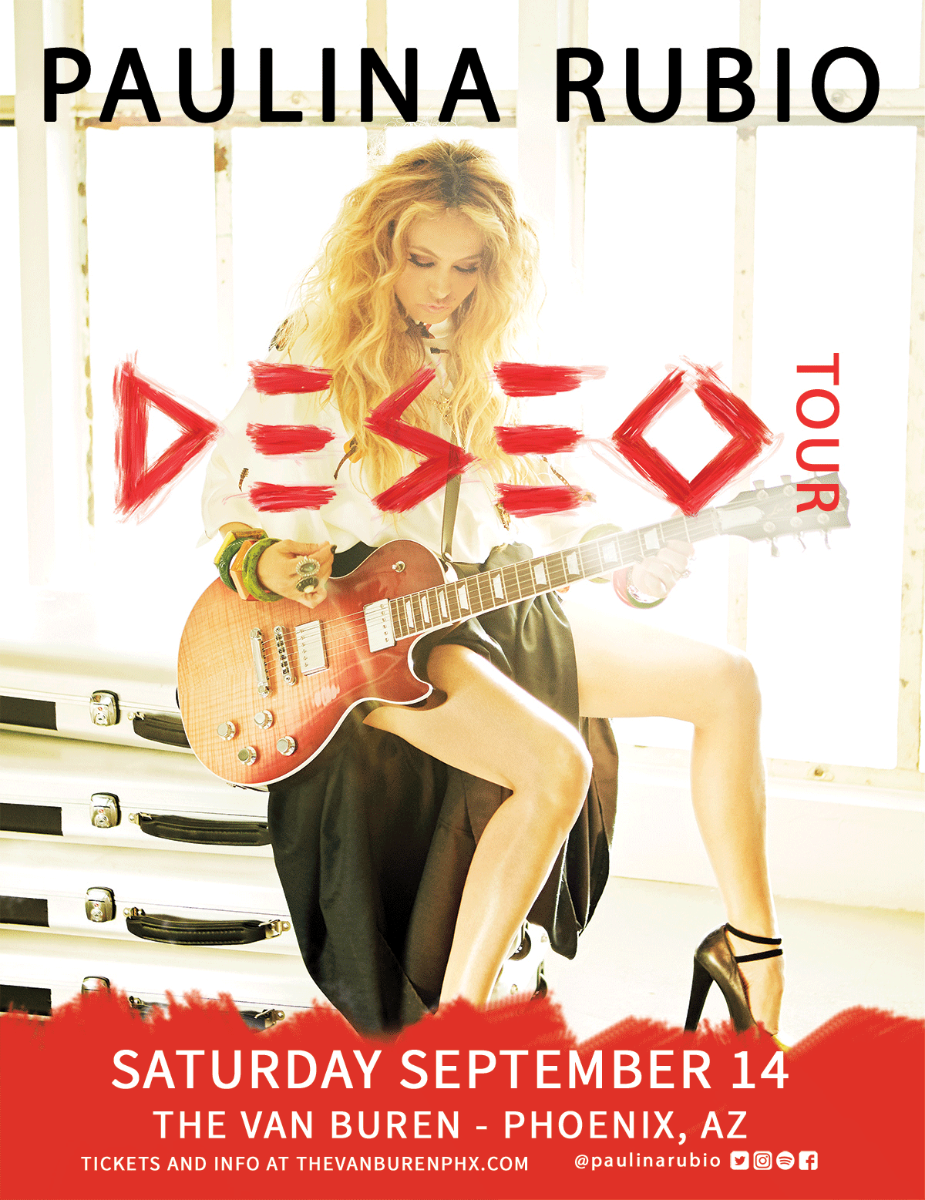 $42-45
Advance Price: $42 + fees / Day of Show Price: $45 + fees

Paulina Rubio - Meet & Greet Package (SOLD OUT)
Package includes:
One General Admission Ticket
Early entry into the venue
Exclusive meet & greet with Paulina Rubio
Personal photograph with Paulina Rubio
Collectible tour poster; signed by Paulina Rubio (limited print)
Custom guitar key chain
Specially designed tote bag
Official meet & greet laminate
Limited availability
Paulina Rubio – VIP Package (SOLD OUT)
Package includes:
Early entry into the venue
Collectible tour poster (limited print)
Custom guitar key chain
Specially designed tote bag
Commemorative VIP laminate
Limited availability
One General Admission Ticket
This event is 13+ (12 & under admitted with parent/legal guardian)
Paulina Rubio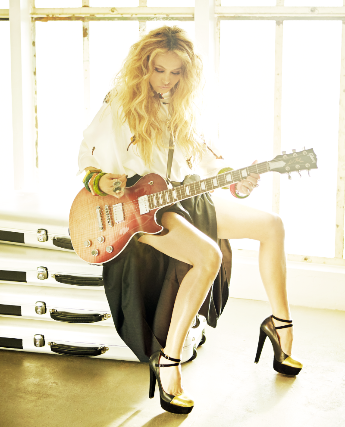 Mexico's leading international artist is back and stronger than ever. Her creative spark and artistic passion are back in the driver's seat on her latest album.

There are few stars in the Latin pop scene that have shined as brightly –and for as long– as Paulina Rubio. The Mexican singer, actress, model and entrepreneur has been putting out hits that have taken the world by storm. After a stint with the group Timbiriche –one of the most long-lasting pop phenomena in Mexico–, Paulina embarked on her solo career in 1992 releasing "La Chica Dorada." The title of her debut album became her professional nickname, The Golden Girl, and opened the doors to the US market.

From then on, her popularity grew both in the US and in Latin America, and rocketed when she signed with Universal Music, cementing her international status in the new millennium. "Paulina" (2000) and particularly "Border Girl" (2002) created an extraordinary crossover effect that rippled throughout the whole of the planet. As a global pop icon, Rubio was the top-selling Latin artist during the early stages of the new century, thanks to songs like "Y Yo Sigo Aquí", "Yo No Soy Esa Mujer" and "The One You Love." In 2004, "Pau-Latina" saw Paulina return to Spanish after releasing her first English-language record "Border Girl," and was a huge step forward in her career. Paulina worked with thirty composers, producers and arrangers, expanding her artistic vision and spawning a set of sold hits –"Te Quise Tanto," "Algo Tienes" and "Dame Otro Tequila"– which ruled the Latin Billboard charts and consolidated her success.

Far from settling, Paulina continued to climb up the ladder of creativity to publish "Ananda" in 2006. Guided by renowned producer Cachorro López and surrounded by a sensational team of songwriters, notably Julieta Venegas, Juanes, Coti, Gustavo Celis and Xabi San Martín (La Oreja de Van Gogh), Paulina delivered an album that would be crucial to her career, taking part in all stages of the process. Fueled by hit singles including "Ni Una Sola Palabra," the album topped the US Latin Pop Chart and was certified 2x Platinum in Spain. "Ananda" picked up Album of the Year at the Latin Billboard Awards and the Spanish edition of GQ Magazine named Rubio as Woman of the Year in 2007.

Increasingly involved in the songwriting and production of her albums, in 2009 the queen of Latin pop returned with "Gran City Pop," a fun, dance album that featured trademark hits "Causa y Efecto" and "Ni Rosas Ni Juguetes." The album saw the Mexican singer embracing new genres including rancheras, hip-hop, Euro disco and 1980s British pop. Paulina once again ruled the airwaves in Spain, Mexico and Puerto Rico, taking up residence at the top of the US Latin charts in mid-2009.

On "Brava!" (2011), Rubio skillfully combined songs in English and in Spanish. The collaborations on the album included heavyweight hit maker RedOne, pop star Taboo from The Black Eyed Peas and famous Mexican composer and songwriter Espinoza Paz, among a long list of others. Marked by the birth of her first child, and by the death of her father, "Brava!" is the work of a mature artist who is determined to celebrate the cycle of life. The album contributed to Rubio's amazing portfolio of hits with tracks "Me Gustas Tanto" –written with Nacho, from Venezuelan duo Chino y Nacho– and the spectacular dance beats of "Heat of the Night" and "All Around the World".

In 2013, Paulina released "Pau Factor," a compilation whose title refers to her participation as a judge on talent-show The X Factor. The album features some of the greatest hits of her career and provides a fantastic overview of her work. Over the years, Paulina has continued to release hit records, including songs "Mi Nuevo Vicio" in 2015 –a collaboration with Colombian artist Morat, an absolute hit in Spain that was certified 2x Platinum and topped the Promusicae chart– and "Si Te Vas" in 2016. The latter rose to the top of the Latin Billboard Charts, adding to Paulina's impressive collection of hits.

2018 is set to be another key year for the artist. Over the course of the year, Paulina released her long-awaited new studio album "Deseo," the first to feature new songs since "Brava!" First single "Desire (Me Tienes Loquita)," featuring her old friend Nacho, was an incredibly appealing and totally contemporary song, with a catchy chorus and solid urban vibes, marking the awaited return of the diva of Latin pop. "Suave y Sutíl" followed as the second single, leading up to the release of the album's Deluxe version featuring version of album, featuring new single "Ya No Me Engañas." It's what we've all been waiting for. Buckle up, Paulina is back and ready to return to North America with her "Deseo Tour 2019" this fall.