The Van Buren, DTPHX Inc., & City of Phoenix
Phoenix Volunteer Fair
February 10, 2019
11:00 am
All Ages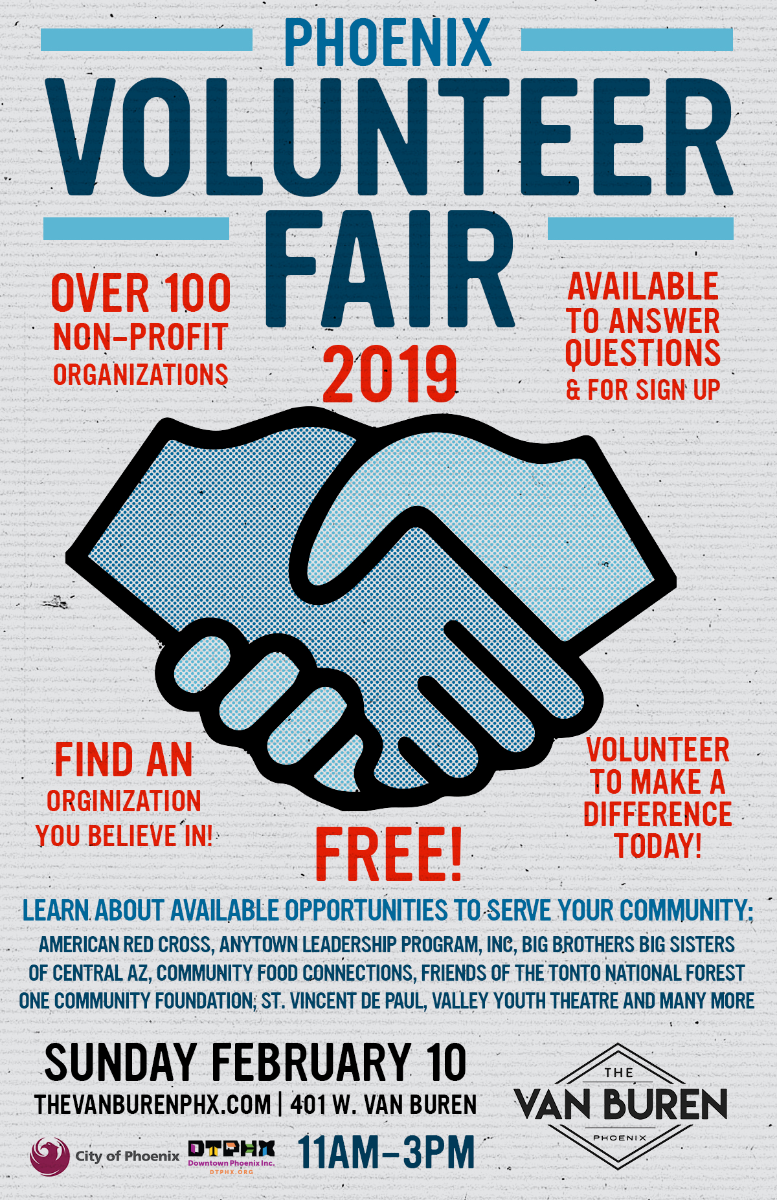 JOIN THE VAN BUREN, DOWNTOWN PHOENIX INC., AND CITY OF PHOENIX FOR THE PHOENIX VOLUNTEER FAIR, FEATURING OVER 100 NON-PROFIT ORGANIZATIONS.
ON SUNDAY, FEBRUARY 10 FROM 11AM TO 3PM, ATTENDEES CAN LEARN ABOUT OPPORTUNITIES TO SERVE OUR COMMUNITY AND SIGN UP TO VOLUNTEER FOR A CAUSE THEY BELIEVE IN!
**OUR OUTDOOR CAFE WILL BE OPEN SERVING FOOD AND DRINKS.**
MORE INFO EMAIL: SLYNCH@DTPHX.ORG

FREE PARKING ON ADAMS STREET GARAGE (MONROE & 3RD AVE)

OVER 100 NON-PROFITS INCLUDING:
ARIZONA HUMANE SOCIETY
EQUALITY ARIZONA
ST. VINCENT DE PAUL
NO MORE DEATHS PHOENIX
FEED OUR BABIES USA
& MORE!
NON-PROFIT ORGANIZATIONS INTERESTED IN PARTICIPATING CAN REGISTER FOR A COMPLIMENTARY BOOTH SPACE AT: https://docs.google.com/forms/d/e/1FAIpQLSetttOFpRc_JlQKmbort8Cwi2tdHiB4fX8DMk4FkYO9J5o2rQ/viewform?usp=sf_link
Phoenix Volunteer Fair