Monster Energy Presents
Monster Energy Outbreak Tour Presents: A Boogie Wit da Hoodie
March 29, 2019
8:00 pm
(Doors:

7:00 pm

)
Ages 13 and Up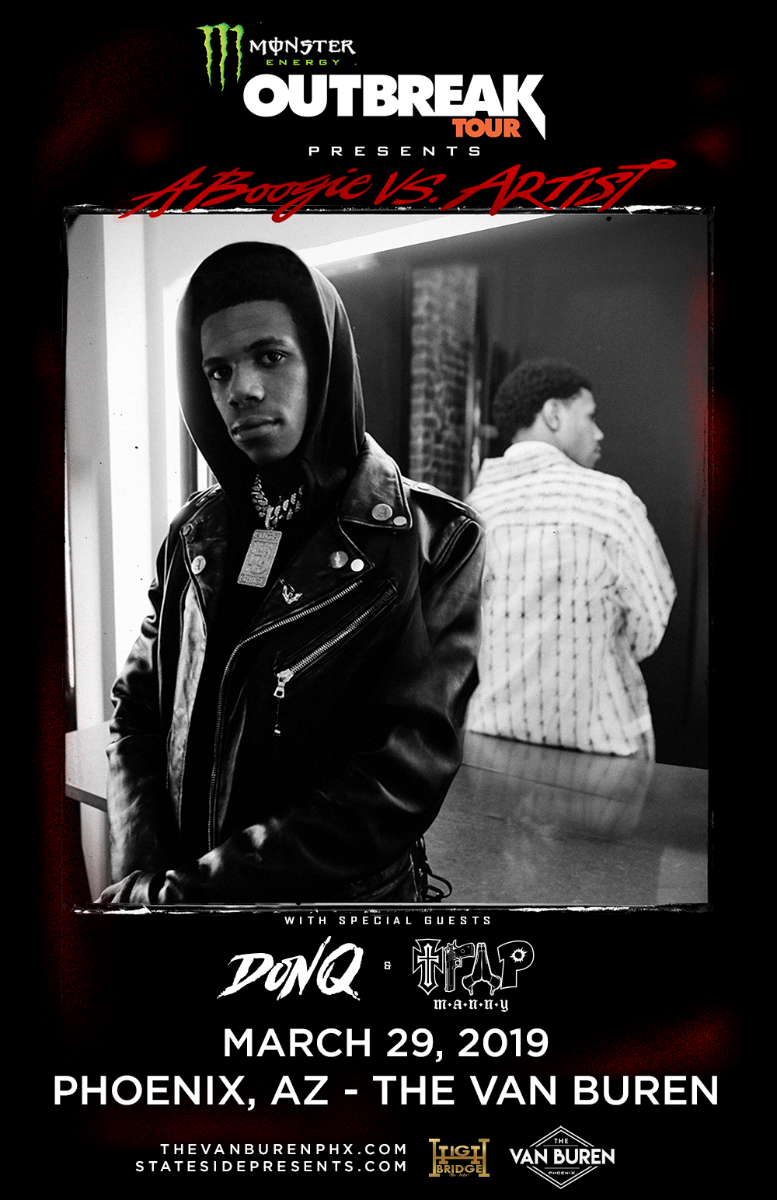 $27.50 Adv - $30 Day of Show
Ticket Prices:
$27.50 Advance GA Floor Price / $30 Day Of Show Price
(Prices do not include service fees)
VIP Options:
VIP Meet & Greet with A Boogie Wit Da Hoodie (SOLD OUT)
• One General Admission ticket
• Access to a Meet & Greet with A Boogie
• Individual photo with A Boogie
• One signed tour poster
• Early entry
• First access merch shopping
• One commemorative VIP laminate
VIP Early Entry Bundle
• One General Admission ticket
• One signed tour poster
• Early entry
• First access merch shopping
• One commemorative VIP laminate
A Boogie Wit Da Hoodie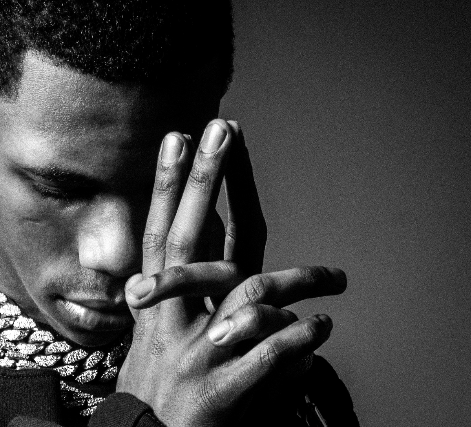 Some things are just destined to be, like the rising music career of A Boogie Wit Da Hoodie.
The 22-year-old, Bronx, New York rapper, whose real name is Artist Dubose was born to create. "My dad named me Artist. His whole life's passion is art," A Boogie says.
Today he's racking up millions of streams across all digital platforms, including Spotify, Apple Music, and Pandora and has taken over radio airwaves all over the nation. However, before he became a national sensation, A Boogie was just a kid from the Bronx with a passion for rap and the drive of a superstar.
When he was a teen, A Boogie listened to 50 Cent and Kanye West and became inspired to write raps about his rough and tumble Bronx neighborhood. "I've always had the passion to rap. Growing up in the hood, just rapping about what you see," he explains.
Boogie would recite the rhymes to his high school classmates, who encouraged him to write more, and eventually helped him with his moniker. "My original rap name was A Boogie," he says "but I was wearing hoodies all the time and everyone started calling me A Boogie Wit Da Hoodie."
In 2015 A Boogie teamed up with childhood friends Quincy "QP" Acheampong and Sambou "Bubba" Camara to birth Highbridge The Label. It was here that he recorded one of his first hits, which like many coming of age stories, revolved around a girl. A turn of events proved that his girlfriend at the time was ultimately unfaithful leading to his recording of the scornful and emotional "D.T.B. (Don't Trust Bitches). His breakout hit "Still Think About You" followed soon after.
With those two songs in the can, Boogie had the basis for his debut mixtape Artist, which he released at the top of 2016.
"I just went with my feelings," he says. The tape isn't all emotions however; A Boogie mixes melody with hard edge street anthems. Tracks like "Trap House" and "My Shit" reveal another layer on the young spitter. "I got two sides to my music," he says. "The Artist side of me is the love songs and A Boogie Wit Da Hoodie, that's when I go with the trap songs." The mixture is clearly working. "My Shit" went on to become RIAA Certified Platinum and was also listed amongst "The Best Songs of 2016" on Apple Music.
A Boogie has wasted no time solidifying his presence on the rap scene. XXL proved to be accurate when they dubbed him as "one of the hottest and newest up-and-comers in hip-hop" and additionally including him in the 2017 Freshman Class. He also went on to release platinum single "Drowning feat. Kodak Black" along with gold singles "Jungle" and "Timeless."
During the Fall of 2017, the young star released his debut album THE BIGGER ARTIST, which went on to spring into the Top 5 on Billboard's Top 200. He also became the top emerging acting in the U.S. as he simultaneously sprung to #1 on Billboard's Emerging Artists chart.
With a recent 2018 BET Award Nomination for "Best New Artist" and the release of his latest project THE INTERNATIONAL ARTIST, A Boogie will continue to make waves and redefine the sound of New York rap. His ability to seamlessly combine the melodic tone of R&B with street rap is unlike any other rapper of his generation. It is easy to see why The New York Times named A Boogie "the most promising young rapper the city has produced in some time."
###
Don Q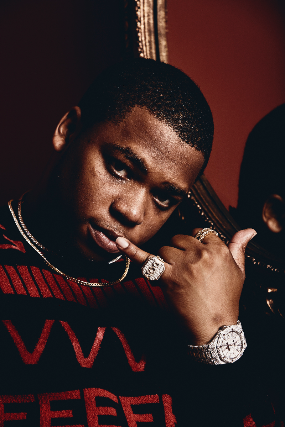 In its purest form, rap resembles a battleground.
Bars fly like blows in the ring. Hooks connect hard and fast. Opponents fall bodied by nothing more than the sheer will and the determination of their adversaries. Like any timeless sport, there's a championship belt awaiting the fiercest challenger.
As soon as Don Q stepped into the ring, he set his sights on that trophy.
"Rap is everything to me," he exclaims. "When I fell in love with the genre as a kid, it was more about the words than the beats. It was the shit guys like Jay-Z, Lloyd Banks, and Fabolous said. I wanted to talk my shit. I appreciate artists who are bringing a competitive spirit to the game and perfecting the craft.
However, everybody should be afraid of what I'm coming with, because I don't stop."
Time and time again, he's given the game good reason to be afraid…
Locked and loaded with timeless rhymes and big screen-worthy stories, Don demanded attention upon arrival in 2014. Straight out of The Bronx's infamous Highbridge neighborhood, he went from show-stopping guest spots for everyone from Meek Mill and Dave East to the 2016 debut mixtape Don Season and collaborative Highbridge The Label: The Takeover Vol. 1 alongside longtime cohort, friend, and multiplatinum superstar A Boogie Wit Da Hoodie. 2017 marked a major milestone with the release of the conceptual Corner Stories and deluxe Corner Stories: Reloaded, chronicling his real-life trials and tribulations threaded together by way of an interview with Rob Markman. Unanimous acclaim followed from XXL, Vibe, HotNewHipHop, and Stereogum who fittingly dubbed him, "The New York rap hardass we need."
Expanding his profile, he joined A Boogie on two cuts from the chart-topping The Bigger Artist as their viral collaboration, "Bag On Me," caught fire and generated over 19 million Spotify streams in under a year. During this time, he quietly commenced work on a trilogy of projects for 2018, beginning with the eight-track Don Talk.
"It's time for the talk," he exclaims. "I'm letting it be known it's going to be hard for anybody to try to come for me, step in my lane, and do what I'm doing. I'm throwing a jab really fast. This is boss talk. This is money talk. This is Don Talk."
Like any worthy competitor, he upped his game this time around. Recording the bulk of the tracklisting at home, he elevated the flows and delivery, illuminating undeniable growth as a spitter. The artist introduced this phase with the single "Trap Phone" [feat. Desiigner]. Over orchestral production courtesy of Nick Papz [Meek Mill], his fiery cadence and airtight wordplay heat up the verses before Desiigner tops off the beat with a stunning cameo and an unforgettable chant.
"Once I laid down the first verse, I kept hearing Desiigner ad-libs in my head," he recalls. "I kept saying, 'I've got to get him on this record.' Once I played it, he got so hyped that he did something crazy. He just fucking went in on it. I did the last verse and solidified it. The goal was to make a hard street song right there."
Mission accomplished. Elsewhere, "Head Tap" [feat. Tee Grizzley] thrives on an ominous synth before spiraling into more verbal fireworks between this powerhouse pair. Recorded in Jersey, it displays a classic level of interplay befitting of the buzz ascribed to the two MCs.
"It's a lot of lines from both of us," he smiles. "That's right for the streets. It's just two young dudes sparring and going all out."
Speaking of sparring, "Words of Wisdom" [feat. Pusha T] sees him go toe-to-toe with a living legend. "He might've edged me out on that one," laughs Don. "Just maybe!"
For the first time, Don sings on the impassioned and infectious "Personal," unveiling the breadth of his talents. Most importantly, "Rap Memorial" offers up a warning to the competition as it affirms his "pen is really on fire."
Don Talk merely represents another beginning. The summertime follow-up Don Turn Me Up thrives on club-ready energy that's bound to make audiences bounce around the world. Meanwhile, the next endeavor unlocks a new vibe altogether for him.
"It's going to show my versatility of how I can go from one tape to a way different tape like nothing," he promises. "I'm just going to show everyone how to really keep up. In 2017, I only dropped Corner Stories. I didn't feel like that was enough. I owe my fans a lot, and I'm giving them what they wanted. It's going to be a whole season."
With each project, he inches closer to that crown…
"When you hear this, I hope you think, 'He's the illest alive'," Don leaves off. "I'm going to live up to that. I'm excited for what's next, but you should be scared."
Trap Manny