Stateside Presents & Live Nation
Long Beach Dub Allstars
November 2, 2018
8:00 pm
(Doors:

7:00 pm

)
Ages 13 and Up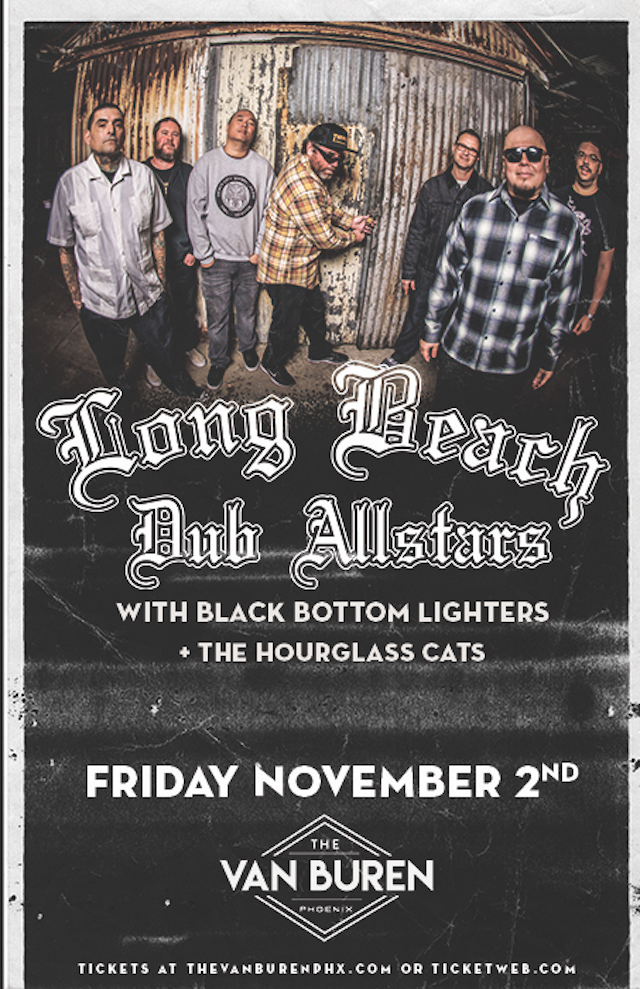 $22.00
Long Beach Dub Allstars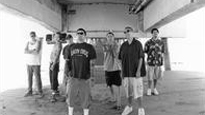 Black Bottom Lighters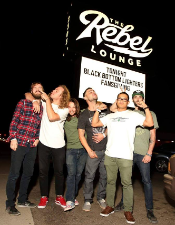 Arizona is where desert-reggae rockers Black Bottom Lighters call home. They are well on their way to outgrowing their town like other recent native products such as Jimmy Eat World, Authority Zero, and Chester Bennington of Linkin Park. Black Bottom Lighters are affectionately known as BBL to a large, animated following. A following that started when they were a young, house party band originating in 2010. Since then, BBL has released a self-titled EP, full length album "2 or 2,000," as well as made several music videos on YouTube, like "Home Grown," which has generated over 150,000 views alone! They were also voted as Phoenix New Times Reader's Choice Award for "Best Local Band" of 2015!

After supporting the debut full length album "2 or 2,000" in the summer of 2015 from Mexico to Michigan, Black Bottom Lighters officially updated their band lineup. One of the originating members "T" (Taide Pineda, vocals/guitar) decided to gracefully exit as well-acquainted Mike Proctor was able to fill the heavy void left behind. Lead guitarist, Phil Kaiser, and Mike go back many years and the band had played with him several times as an occasional fill-in so he was a natural fit. Mike and Phil have an accustomed style feeding off each other that is audibly gratifying to the listener. The musicianship definitely speaks for itself during live performances and on the 2016 "Pipe Dream EP." Also, on the EP you will find their very first guest feature, a collaboratoration with Layzie Bone from Bone Thugs & Harmony on a track called "Peace, Love & Smoke Rings." A song that very well could be one of their most popular songs yet with heavy bass and a hook that could be found on a regular rotation on the radio.

Despite the band's lineup change their style stays the same; unmistakable vocal rhymes from Ryan Stilwell (Stilly), hard hitting beats from drummer Ryan McPhatter (McPhatty), the groove-filled bass of Jose Aquino, electrifying keys of Keyln Weaver, as well as their signature call and response and tremendous harmonizing! Black Bottom Lighters has ruled stages from Mexico to Texas, California, Oregon, throughout Arizona, Colorado, Iowa, Ohio, Michigan, to Florida, and even Legends of Notre Dame in Indiana! The bands and artists they have shared the stage with is much too long to list but they have been featured at Big Ticket Music Festival in Jacksonville, FL and numerous Southwest music festivals: Wild Wild West Fest, Uplift Music and Arts Festival, Unity Festival, True Music Festival, McDowell Mountain Music Festival, Pot of Gold Festival, Apache Reggae Jam, and Tempe Beach Park with headliners Rebelution and Atmosphere. Their determination to bring the top shelf quality, all-original, reggae-rock sound from the Arizona desert across the country is quite clear. And even if it's a show of "2 or 2,000" they are going to give it everything they got all the same!
The Hourglass Cats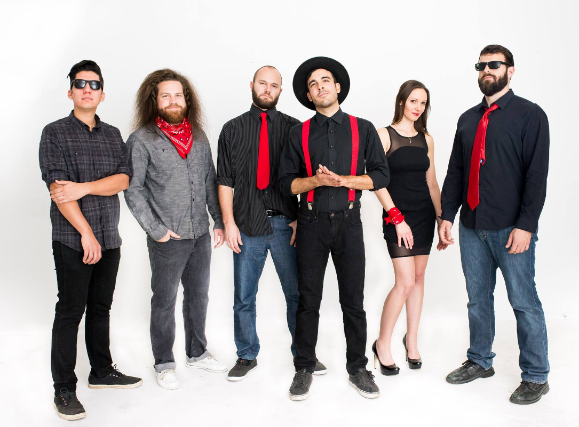 The Hourglass Cats are a Desert Reggae & RockNRoll collective based out of Phoenix, AZ. Formed in 2011 by frontman Cori Rios and drummer "Hot" Karl Maier. The Hourglass Cats consist of Chaz Fertal (Saxophone), Lisa Lizanec (Trombone), Seth Gory (Bass), Jesse Morrrison (Keys/Vox), Enrique Naranjo (Drums) and Cori Rios (Guitar/Vox). The aforementioned Rios, whom Jeff Moses of Phoenix New times referred to as a "Bona-fide Rock Star" at last years Apache Lake Music Festival where they performed an "unforgettable" set, has been writing his own music since he was 16 years old.
In 2013 The Hourglass Cats released their debut 432 EP to an incredible response and esteemed reviews. With Modern Times calling it "one of the most fun listens of the summer" and YabYum hailing it for it's complex journey into the world of 432 hz. They followed up their EP with a slew of singles throughout 2014, including the critically acclaimed and spectacularly catchy "Too Damn Rude". Described as not just catchy, but a "fantastic take on 2 Tone ska with an edgy rock vibe. It is an immediate, in-your-face dance number."
THC kicked off 2015 with new music and a new sound with their release of 2 singles recorded at Loud Audio, one accompanied by an artsy video of silhouettes in the form of "Be That Way" directed by Marcus Eden. Dubbed as "leaning more Rock n' Roll than ever."
2016 saw the release of Portraits of Cats, THC's second and most diverse album to date. Recorded and produced by their very own Jesse Morrison of Studio at The Farm. "Portraits of Cats will take you on a musical journey of THC's influences". From the "intoxicating reggae pop" of the opening track, Rainchecks, to the Latin inspired Bailar Para Mi, which will "transport you south of the border for a few minutes of fantasy," all the way to the "prowling, growling, edgy Garage-Rock sound of Downtown Funk," you will get a sample of their wide range of influences. The Hourglass Cats are on their way to becoming one of Phoenix's premiere bands. Having most recently performed on the Main Stage at Mcdowell Mountain Music Festival, The Hourglass Cats have toured the west coast and southwest regions including California, Texas, and even as far south as parts of Mexico. They have twice headlined an AZ showcase at SXSW and have shared bills with Passion Pit, Portugal The Man, Thievery Corporation, Slightly Stoopid, KONGOS, STRFKR, Allen Stone, Dispatch, Tribal Seeds, and more! THC has regular radio play and repeat appearances on various radio stations around the valley including KUKQ Phoenix, KWSS 93.9 FM, Delux Radio, Melange Cafe Online Radio and KJZZ Phoenix 91.5 FM.
Cori Rios (Guitar & Vocals), Chaz Fertal (Tenor Sax, Percussion & Vocals), Enrique Naranjo (Drums and Percussion), Jesse Morrison (Keys, Percussion & Vocals), Lisa Lizanec (Trombone & Vocals), Seth Gory (Bass)