The Maine Presents
The Maine
January 18, 2019
7:00 pm
(Doors:

6:00 pm

)
All Ages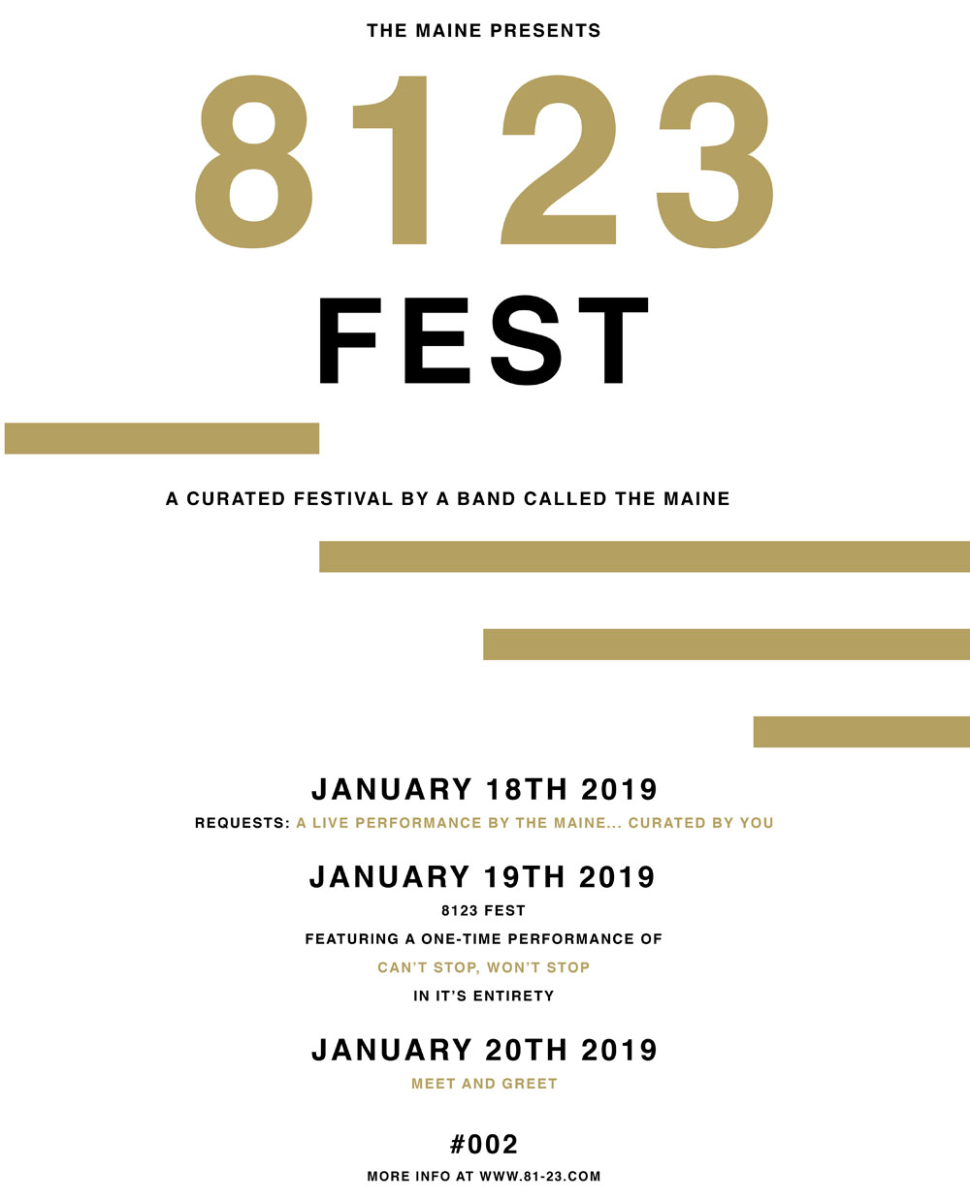 SOLD OUT
8123 FEST: A CURATED FESTIVAL BY A BAND CALLED THE MAINE

IT. IS. BACK. AND BIGGER THAN BEFORE
JOIN US ON
JANUARY 18TH, 19TH, AND 20TH 2019

EVENTS
FRIDAY JANUARY 18TH 2019 - SOLD OUT
*8123 Fest Pre-Party live performance at the Van Buren
The Maine performing live at The Van Buren in Downtown Phoenix, AZ. The band will be performing a set curated by you! More info regarding song voting will be posted as we approach the show date.

SATURDAY JANUARY 19TH 2019
*Afterparty at the Van Buren - SOLD OUT
The official 8123 Festival hosted in Downtown Phoenix, Arizona! The Maine will be performing Can't Stop, Won't Stop in it's entirety alongside your favorite songs from their entire catalog!

Make America Emo Again Afterparty hosted at The Van Buren in Downtown Phoenix, Arizona. *Afterparty SOLD OUT*

SUNDAY JANUARY 20TH 2019
Official meet and greet with all members of The Maine.

The Maine
The Maine is an American rock band from Tempe, Arizona. In their eight years together, The Maine has released four full-length albums, including their major label debut "Black & White" in 2010. The band expanded their musical realm into production which resulted in their fourth EP, the self-recorded and produced "Imaginary Numbers" (2013). Over the years, they have toured across the globe as well as extensively on home soil in the US; both as headliners and in support roles. The Maine has shared the stage with the likes of Taking Back Sunday, Anberlin, A Rocket To The Moon, Augustana, and many more. The band has made numerous festival appearances including the Vans Warped Tour, Bamboozle, and South by Southwest. The Maine is recognized within the industry for the close relationships they build and maintain with their fans -- many of whom are now college age and have grown up alongside the band. The Maine is John O'Callaghan, Pat Kirch, Kennedy Brock, Garrett Nickelsen, and Jared Monaco.