ALTAZ 93.3 PRESENTS
Good Charlotte North American Tour
November 23, 2018
7:00 pm
(Doors:

6:00 pm

)
Ages 13 and Up
$36.50 Advance / $40.50 Day Of
This event is 13+ (12 & under admitted with parent legal guardian)
Good Charlotte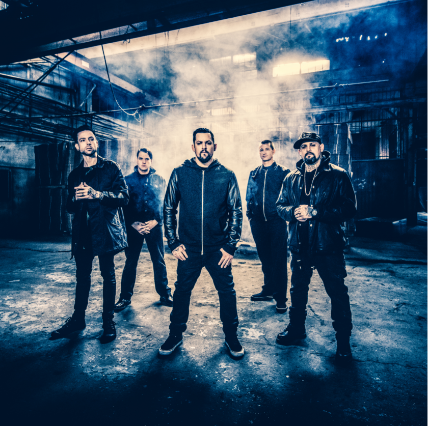 Music speaks for its generation. Albums and songs consciously and subconsciously echo the emotions, events, and experiences of audiences at large.
Over twenty years into a storied career, Good Charlotte consistently amplify the voice of their era. Similar to how they spoke for a restless post-Y2K zeitgeist at the turn-of-the-century, the iconic multiplatinum modern rock mavericks—brothers Joel [vocals] and Benji Madden [guitar, vocals], Billy Martin [guitar], Paul Thomas [bass], and Dean Butterworth [drums]—pick up the mantle for a world anesthetized and numbed by quick chemical fixes, social media obsession, and pervasive tragedy on their seventh full-length, the appropriately titled Generation Rx [MDDN/BMG]. As always, they encode a hopeful message inside a capsule of D.I.Y. punk energy, expansive rock unpredictability, and widescreen orchestral scope.
It's as if the quintet siphon the spirit of their formative years through a prism of wisdom gleamed from two decades in the game.
"When we first started, there was this unconscious feeling," explains Joel. "It's like we were running our own race. I think we've been trying to find the doorway back for a long time. We've both learned so much through family and life that we managed to finally find the doorway. It took us fifteen years to get back there, but we did now."
"We're happier than ever," adds Benji. "We're not operating on anyone's else's schedule, time clock, or terms. We're saying exactly what we want to say and following the feeling that brought us here in the first place."
Generation Rx would be born from the shared sense of instinctual inspiration that informed the brothers since childhood. In December 2017, Good Charlotte performed a tearful, yet triumphant rendition of "Awful Things" during Lil Peep's memorial at the request of his mom. Upon returning home to Los Angeles, many heavy thoughts circulated between them.
One January day, Benji approached Joel and simply said, "I feel like we should make a record."
"We laid some ground rules though," recalls Joel. "We decided to take as much time as we needed and only work when it felt right. We didn't approach it with topics in mind. Rather, we wrote from stream-of-consciousness. We didn't want to hear about anything going on in the outside world or what was on the radio. We tapped back into the place we originally created from before we knew anything."
"If you really dive in, you'll get a lot of insight into our lives," Benji admits. "The title came from the fact our generation was the first one to have so many options to kill pain. Peep's death hit us really hard. At the same time, we've seen the whole opioid crisis get worse firsthand. We wondered if we were really doing our part as the older brothers in the scene. The way to do our part was to get back out on the battlefield and share any wisdom we could to improve lives. We're all human beings. We all experience pain, but we wanted to show it's possible to come out on the other side okay."
In order to capture this message, the band worked differently. Instead of holing up in the studio for the duration of some rigid schedule, they recorded when inspiration struck at MDDN headquarters with Benji and Zakk Cervini behind the board as co-producers.
The fluidity and freedom of the process reflected the music's urgency. On the first single "Actual Pain," a swell of cinematic strings buttresses the wall of guitars and drums as an identifiable and infectious hook takes hold, speaking to an overarching theme.
"A big part of pain is mental health," Joel goes on. "For as much progress as we've made, people are still embarrassed to talk about things like bipolar disorder or PTSD. Lyrically, it's about a relationship where two people have this cloud over them."
"It's relatable," elaborates Benji. "We all feel actual pain. We cover it up. We medicate it. We avoid it. We're talking about it though."
Elsewhere, an upheaval of distortion and big screen-worthy orchestration seethes under "Shadow Boxer," which confronts self-doubt head on. Clean guitar kicks off the pensive "Prayers" before spiraling into thought provoking lyrics and a hummable lead.
"With all of these school shootings, we're missing the point," sighs Joel. "There are young people who aren't safe. They're the kids. We're the adults. It's our job to keep them safe. These different sides are fighting each other. Prayers aren't being heard. It's a commentary."
Sparse piano chords and string bends resound on the emotionally charged "Cold Song," which serves "as a reminder even though life is full of pain, we're not alone."
Penned by Benji, the hyper-charged gut punch of "Leech" gives way to an explosive cameo from Architects frontman Sam Carter and examines, "being abandoned as a child left to figure it out on your own with no guidance." Meanwhile, "California" concludes with a heartfelt assurance to the brothers' children that "you can always come home to California."
Generation Rx ultimately continues a Good Charlotte tradition of empowering listeners with one cleverly catchy anthem after another. 2000's landmark self-titled debut earned a gold plaque and quietly set the stage for worldwide superstardom. In 2002, they unleashed the now-classic The Young and the Hopeless, which eventually went RIAA triple-platinum and would be lauded in the Top 20 of Rolling Stone's "50 Greatest Pop-Punk Albums" and BuzzFeed's "36 Pop Punk Albums You Need to Hear Before You F——ing Die." 2004's The Chronicles of Life and Death bowed at #3 on the Billboard Top 200 and reached platinum status as Good Morning Revival [2007] and Cardiology [2010] repeated that Top 10 success and brought the band around the world multiple times in front of countless screaming fans.
Following a six-year hiatus, they made a much-lauded return with their first independent offering Youth Authority during 2016. Everyone from N.E.R.D. and Three 6 Mafia to Avenged Sevenfold and Tonight Alive jumped at the chance to collaborate. By 2018, cumulative sales exceeded 11 million worldwide, while accolades encompassed everything from KERRANG! Awards to an MTV VMA. Along the way, they formed a full-service management firm and music company, MDDN, which looks after 21 clients and comprises a team of 16 forward-thinking creative minds.
In the end, Generation RX brings Good Charlotte full circle as they kick off a new chapter.
"By making this album, we get a feeling we've been looking for since we were little kids," Benji leaves off. "Good Charlotte was a way for us to feel understood. We definitely felt that way writing these songs. My biggest hope is that when someone listens to Generation Rx, they feel understood too."
Sleeping with Sirens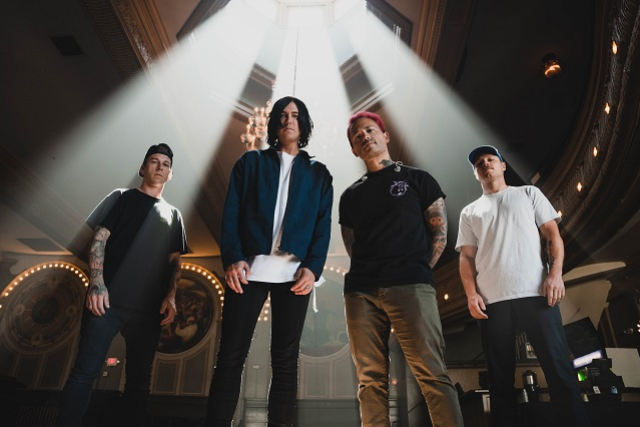 The Dose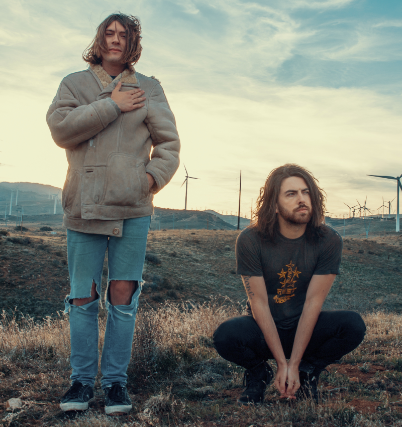 Simply put, THE DOSE make beautiful noise. Their massive sound emanates from the life experience and passion of just two individuals, a distinctive duo brimming with purposeful energy, expansive melody, esoteric ruminations, and unrestrained emotion.
Vocalist/guitarist Indio Downey and drummer Ralph Alexander stir the most potent elements of the rock n' roll landscape of the past, present, and future into a musical cauldron. Their songs breathlessly swerve between driving, hooky, melancholic and anthemic, careening from self-loathing to self-empowerment, with vigor.
Their debut full-length is twelve songs of power, a diverse offering anchored by authenticity and vision. On Saline, The Dose delivers missives about hope, perseverance, discipline, and commitment, against a backdrop forged from a dizzying mixture. There's the unpretentious heart-on-sleeve bombast of the Pacific Northwest of the nineties; the enigmatic elevation of eighties postpunk; the unapologetic groove of the working class neighborhoods of seventies England; and a whiff of the Mississippi Delta firmament that influenced it all.
Praised by Guitar World for its "'nineties-inspired firepower," Saline was produced by Keith Nelson (Buckcherry) and mixed by Joe Baressi (Tool, Queens Of The Stone Age, Soundgarden). The timeless energy of culture-shifting trailblazers Nirvana, Black Sabbath, and Led Zeppelin; the psych-driven rumble of Tame Impala; the throwback groove of The Sword; the urgent restlessness of The Sex Pistols; the atmospheric gloom of The Cure; it all converges to make something refreshingly unique, a mighty counterpart to similarly hardworking two-piece bands like Royal Blood and The Black Keys.
Downey's voice is rich, intimate, and immediate, spilling secrets about love and loss with full-throated charisma in the tradition of Kurt Cobain, mixed with the evocative melodic
mood of Layne Staley. His guitar playing is similarly engaging: impossibly layered and dynamic yet cutting and catchy, swirling over top of the muscular rhythmic textures laid down by Alexander.
Much as the keyboardist for The Doors would handle a bass line with a single hand, or Rush frontman Geddy Lee will work bass-synth pedals when he switches from bass to keys, Alexander's focused dedication ensures The Dose coalesces into something much bigger than the sum of its parts, as he transforms his drum kit and synth-pedals into a complete rhythm section.
The Dose have spent three years sharpening their sound, living and working together on the road and at home in Los Angeles. They began as a trio, but after their bass player was a no-show for an early gig, Downey and Alexander took the stage alone. They emerged surprised and newly inspired by their chemistry and never looked back, splitting for the South, where they toiled for a month to harness what they'd discovered in that first performance as a duo.
("The Dose" is a play on words; "dos" is Spanish for "two" and the pair offers a "dose" of electric energy for the increasingly rock-starved masses.)
The Dose EP emerged soon after, self-produced and tracked at both Welcome To 1979 and Jack White's Third Man Records in Nashville, Tennessee, and featuring effortlessly driving songs like "Cold Hands" and "Glory." It was a step toward the more fully realized pronouncements of Saline, itself the rich reward of months spent writing and jamming together. The songs on Saline would sound equally at home blasting from the speakers inside Jimmy Page's castle, from beneath the tent at a festival stage, and from the rolled down windows of a speeding car occupied by young lovers.
The Dose delivers an invigorating signature sound with boots planted firmly in rock n' roll's past and every finger grabbing toward the future. This is music of liberation and determination, of strength through adversity. As Indio Downey once put it himself: "Let rock n' roll's heaviness fill up your inner-emptiness."