BULEMBU CAMPAIGNS: PIA PRESENTS
The Tenors for Bulembu "A Gift from the Heart" Gala
February 15, 2020
6:00 pm
(Doors:

6:00 pm

)
All Ages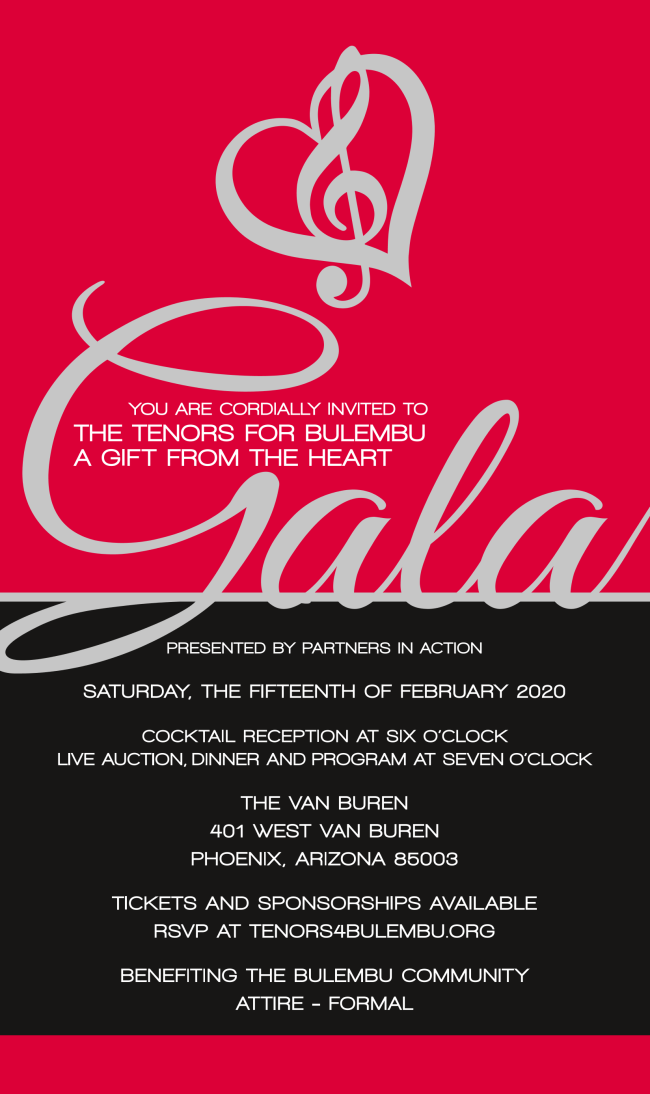 We are excited to announce The Tenors for Bulembu "A Gift from the Heart" Gala on Saturday February 15th, 2020 at The Van Buren. Emceed by Nick Lowery, NFL Kicker and All-Pro Football Player with Auctiontainer Subyn Wadsworth.
About the Bulembu Organization
In 2006, a team of social developers and entrepreneurs purchased the abandoned mining town of Bulembu in Eswatini (formally known as Swaziland) with a vision, to restore it to a fully sustainable town, that includes providing care to over 350 orphaned and vulnerable children; with the majority diagnosed with HIV/AIDS. The children live in family homes with caregivers, known as "aunties," where they receive endless support and care that ever child deserves. Today Bulembu has cultivated a variety of successful community enterprises that continue to help with economic sustainability.
Our impact since 2006
Provided 1,200 meals per day, with more than 430,000 served in 2019, and 3,000,000 meals served since 2007.
55 abandoned buildings have been rehabilitated into childcare homes
3 school campuses have been restored and expanded to fit the children's needs
Over 300 jobs have been created that provide for more than 1,800 family members in Eswatini (Swaziland).
80% of our graduates are employed or in studies/internships (national unemployment rate 45%)
Over 330 full-time students in our education system
1,500 people in our community have receive medical assistance from our clinics and more than 35,000 cared for since 2008.
Please consider joining us as we celebrate 14 years of success that has brought life transformation to the Bulembu community, Southern Africa. Your invaluable support will help our mission to Restore a Town and Transform a Nation, One Life at a Time.
This event is All Ages
The Tenors for Bulembu "A Gift from the Heart" Gala