Universatile Music
Postponed - Watsky - Placement Album Tour
May 16, 2020
8:00 pm
(Doors:

7:00 pm

)
All Ages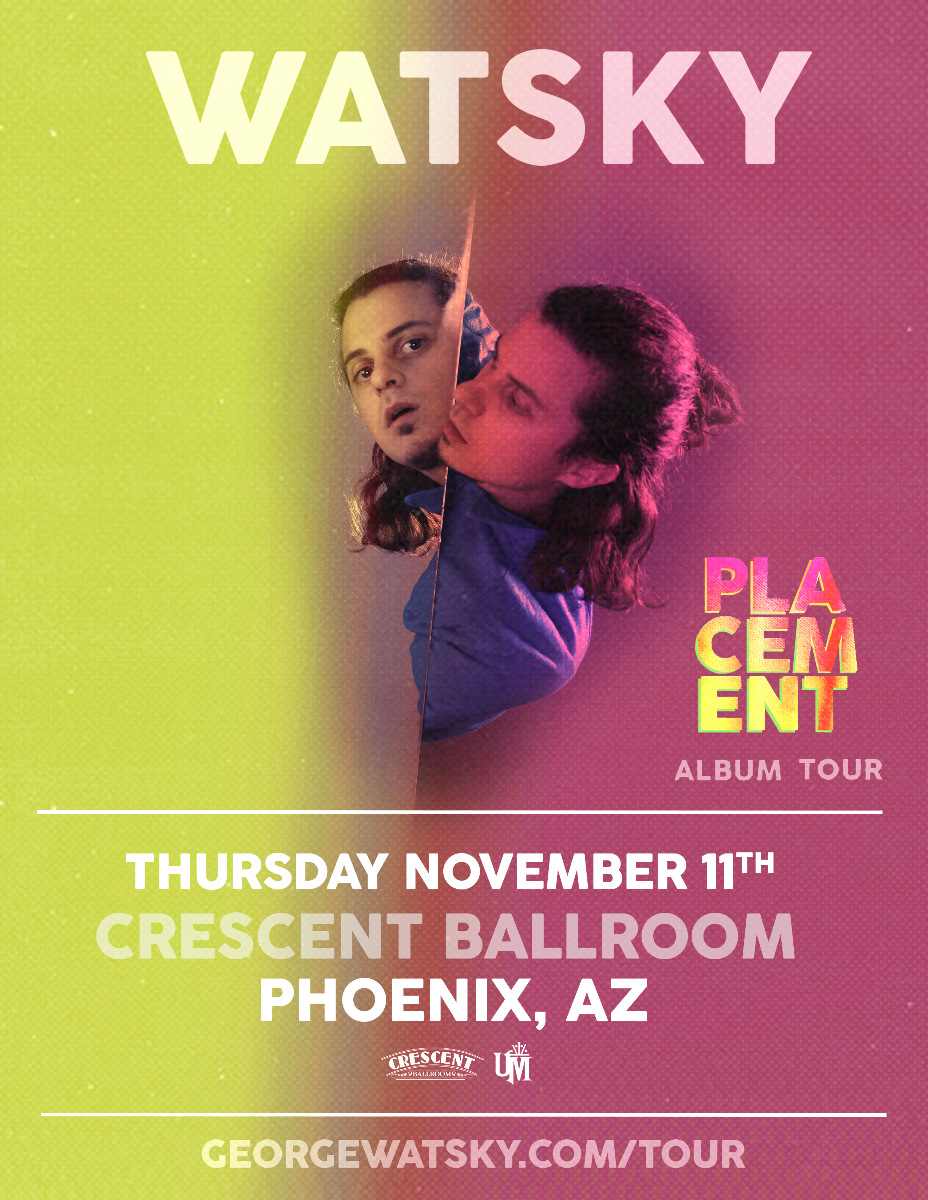 $23.50-26
Advance Price: $23.50 + fees / Day of Show Price: $26 + fees



Watsky – Meet & Greet Package - $89 + fees
Package includes:
- One general admission ticket
- Early entry into the venue
- Exclusive Meet & Greet with Watsky
- Personal photograph with Watsky
- Collectable tour poster; autographed by Watsky
- Specially designed Watsky button set
- Exclusive Watsky merchandise item
- Official VIP meet & greet laminate
**Limited availability**


All Ages (12 & under admitted with parent/guardian)
Watsky
Watsky has made a career of experimenting while maintaining consistency. Even as his hip hop has evolved to include elements of rock, jazz and orchestral arrangements, he has held true to his distinct blend of occasionally funny, often virtuosic, always honest wordplay. A product San Francisco's spoken word poetry scene, Watsky has appeared on HBO Def Poetry, Ellen, NPR, PBS, Lin-Manuel Miranda's Hamilton Mixtape, toured extensively with his live band, and accumulated over 200 million YouTube views. In 2016 his new album x Infinity reached #4 on the Billboard rap albums chart, and his debut essay collection, How To Ruin Everything (Plume/Penguin/Random-House), was a New York Times bestseller. Shortly after, he released his 2019 album Complaint and tour extensively.
Travis Thompson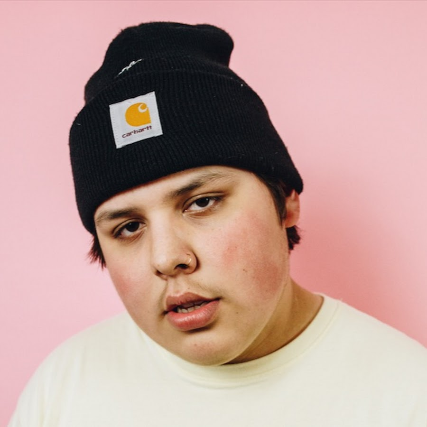 WAX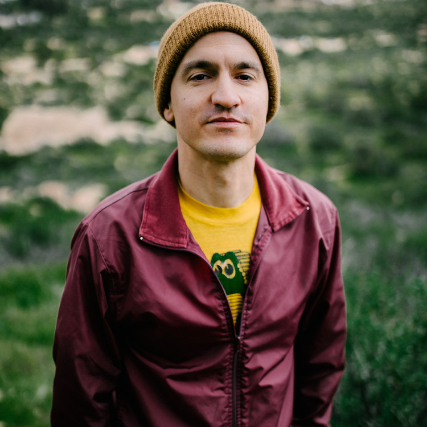 Wax is mostly known as a rapper. He is also a singer, songwriter, producer, comedian, guitar player and overall creative dude.
Wax started making music when he was a young child with his identical twin brother Herbal T. The twins were very into watching MTV which in turn lead them to buying albums which in turn lead them to listening to said albums. For some reason they were always interested in not only listening to music but creating it themselves as well. In the 6th grade Wax got a guitar for Christmas and started to learn how to play. At the same time, his brother started to play the drums and the twins would jam together ADORABLY. Wax took guitar lessons in middle school and says that he still uses what he learned in those lessons to this day. He wants kids to know that you should get a guitar teacher who teaches you the tools you need to improvise… rather than a teacher who just shows you how to play songs. Then again, he also thinks you should do whatever you want. Everyone is different. Wax's teacher Jim Wood was a blues player who was awesome.
Throughout middle school and high school Wax and Herbal T would play music in bands and write songs and raps. They were typical suburban American youngsters who enjoyed music, skateboarding, and the occasional marijuana cigarette. The band they started in high school, Macgregor, stayed together for many years and ended up recording several albums. They toured extensively on the east coast in the early 2000's playing a hybrid of funk, rock, and hip hop music. Wax and Herbs were the lead vocalists as well as the guitarist and bassist in MacGregor. You can listen to the MacGregor albums "Beat Camp Tactics" and "Scatterbrain" on various internet platforms.
After the band broke up, Wax had a bunch of regular jobs and kind of attempted to quit being a musician. After brief stints in landscaping, tech support, mortgage brokering, restaurant service, transport, and other things… he moved to San Diego where he worked in construction for a year. During this year Wax and Herbal T released their album "Grizzly Season" which can also be listened to on various internet platforms. It was also during this year that Vibe Magazine held an online rap contest in which Wax entered and did really well. This helped Wax and Herbal T to understand the power of the internet when it comes to marketing your music. They started a youtube channel and began uploading videos of them rapping, playing music, and doing other things that could be deemed entertaining. (here there could be a couple videos from this time period… maybe just new crack?).
After a few years of trying other "careers", Wax decided it made more sense to just pursue music, being that he was very passionate about it. So, in 2007 he moved to Los Angeles to go to school for audio engineering. He attended the Los Angeles Recording School for a year. During that year, he met a young hip hop producer named EOM via myspace. Wax and EOM started making songs together over email and in 2008 they released their album "Liquid Courage". It was also during this time that Wax and Herbal T's Youtube channel began to pick up some steam. At the time they were on the "top 100" list of musicians on youtube or some shit like that. They had developed a decent sized fanbase and did some more videos and a little bit of touring.
During this time Wax started to meet other like-minded creative individuals in Los Angeles. He ended up teaming up with directors Jay Ahn and Casey Chan, along with cinematographer Andrew Kurchinski. Wax, Jay, Casey, AK, and EOM became collectively known as Intense Imagination… a team that created music, music videos, web shows, and more. Wax's music video game was stepped up greatly due to the talents of his team and his fanbase continued to grow. He released a collaborative album in 2010 called "Clockwise" with Los Angeles rapper Dumbfoundead.
2011 was a busy year for Wax…. he released two mixtapes, "Scrublife" and "Eviction Notice". At this time he was "taking meetings" with different people in the music biz and he ended up getting a deal with Def Jam Records. He was signed to them for a year or so. He made some cool music during that time but never actually released an album through Def Jam. He was dropped by the label and proceeded to continue making music independently. His manager at this time Brian Washington was a big help for him during this time, along with his intense imagination crew.
In 2012, Wax released a video for his song "Rosana". The video was directed by Casey Chan and featured the model Melissa Soria. The video went viral, which eventually lead it to become a pop hit in several countries including Germany, Austria, and Switzerland. It was the number one song in Austria for 4 weeks in a row and went gold in many different countries. In 2013 Wax spent a lot of time supporting this song in Europe, playing at massive festivals and random MTV Spring Break type of events. "It was a trip." -wax
2013 also saw the release of Wax's album "Continue". That album charted on the billboard 200 list and did pretty well in general as far as independent albums go. It had some good songs on it… check it out on Spotify, Youtube, or wherever else on the interenet you listen to music. Also in 2013, Wax released "Wax Unplugged"… a live album recorded at the Hotel Cafe in Los Angeles, CA. He also toured the US a few times with his band and with Dumbfoundead, EOM, and Anderson .Paak (a tour called the Wintervention Tour).
In 2014 Wax did the Vans Warped Tour. He also did a US and European tour with his friend Watsky.
Did I mention that throughout all of this nonsense Wax was a human being? He often wondered if he had made the right choice in his life as far as dedicating it to music. It seemed very selfish and he regrets that he didn't see his family as much as he probably should have. That sentence was in the past tense but he still feels that way. That said, a lot of people have told him that the music has helped them in various ways so that is good.
In 2015, Wax released yet another album. This one was called "Livin Foul". The whole album was produced by Wax and Davy Nathan. Wax and Davy have produced many of Wax's songs together. They also are an 80's tribute group called Cavviar. The Cavviar album "Cavviar" is on Spotify as is "Livin Foul".
If you thought Wax was finished releasing albums after that, you must have been out of your fucking mind. In 2016 he released an album called "The Cookout Chronicles".
In 2017, Wax teamed back up with his brother Herbal T as well as long time collaborator LOA for their EP "Back in Business".
2018 was a bad year for Wax. His very good friend and frequent collaborator EOM passed away in March of 2018. If you are reading this make sure to check out some of E's amazing music on youtube, spotify, or wherever you prefer to listen to music online.
In 2019, Wax will be releasing a brand new album called "B.A.A.A." It looks like May at this point. He is really excited about this one!
Other things:
From 2012 until 2018 wax did a podcast. It was called Wax's Podcast. It featured Wax babbling about something or other. There are 170 or so episodes available that you can listen to online somewhere.
From 2015 until the present, Wax has also dabbled in stand up comedy. He did a monthly show at the Westside Comedy Theater for 2 years between 2016 and 2018 called "Wax and Friends". The show consisted of different comedians and musicians performing.
Wax hosts an online food review show called "Chain Reaction" where he only reviews chain restaurants. 3 seasons of this show are up on his youtube channel.