Stateside & Live Nation Present
Lord Huron, Skyway Man
October 25, 2021
7:00 pm
(Doors:

5:30 pm

)
Ages 13 and Up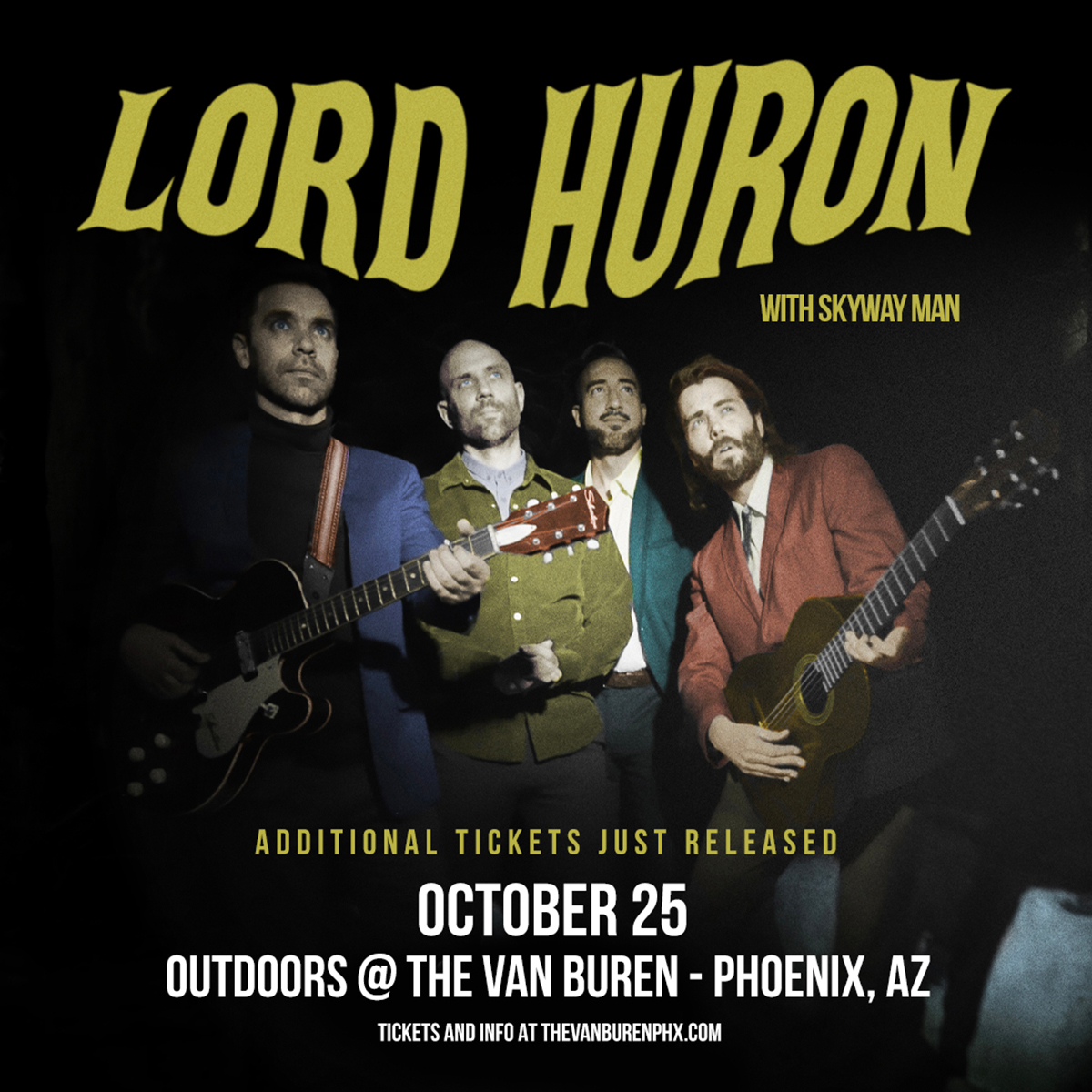 The Event Organizer is requiring all attendees of this event to have received a negative COVID-19 test within 72-hours prior to entering the venue, OR be fully vaccinated against COVID-19. In attending the event, you certify and attest that you and all individuals in your party attending the event will abide by the following regulations:

All fans will provide printed proof of a negative COVID-19 test within 72-hours prior to entering the venue, OR be fully vaccinated against COVID-19 (at least two weeks after final dose) and provide printed documentation providing proof of immunization. Unvaccinated fans under 12 years of age will be required to take a COVID-19 diagnostic test within 72-hours before the event and will provide proof of negative result prior to entering the venue.

Entry requirements and venue protocols are subject to change.

Due to overwhelming demand, this show has been moved outside of The Van Buren onto 5th Avenue. All tickets for The Van Buren show will be honored.

ADVANCE PRICE: $49.50 + FEES / DAY OF SHOW PRICE: $53 + FEES
.
THIS SHOW IS AGES 13 AND UP (12 AND UNDER ADMITTED WITH LEGAL GUARDIAN OR PARENT)

To reduce staff contact with guest belongings, we have implemented the following bag policy: we will allow clear plastic, vinyl or PVC tote bags no larger than 12" x 6" x 12" and/or small clutch bags (4.5"x 6.5").

Lord Huron
Ben Schneider conjured Lord Huron from the depths of Lake Huron during a trip to his family home in northern Michigan in 2010. Ancient memories, smoke over the moon and nights full of perilous laughter all bolstered the brew from which Lord Huron emerged. Ben brought Lord Huron back with him to Los Angeles, where strange young things are known to flourish, unhindered.
As the songs grew, so did the need for a band to play them. Answering the call ringing out from California, grand brethren from years past, friends and fellow Michiganders, Mark Barry, Miguel Briseno and Tom Renaud, left their respective paths, or bent each road to their own will, to reconvene out west. An old crew reformed in a new harbor.
After a pair of EPs, a debut album, Lonesome Dreams saw release in 2012. Tours followed that found the boys in blistering deserts, reveling in sinister paradises, wandering frozen coasts and lost among the hanging fog of bygone forests. Who can say but the soles of their shoes how far they travelled and how wide?
In 2014, trail-weary but intrepid, Lord Huron set up camp deep in Los Angeles at Whispering Pines Studios to notch their latest songs and abet the journeys of others. Lord Huron will release the next chapter of their adventures, Strange Trails, in April 2015.
Skyway Man
James Wallace--singer, songwriter and producer behind Skyway Man--presents The World Only Ends When You Die, a spinning disc flashing the finest examples of cosmological country and sci-fi gospel blues.
The World Only Ends When You Die was conceived as a tragédie lyrique - a cinematic psych-folk opera about a person rendered incapable of coping with an uncertain reality following a near death experience. Under a spell of mixed wisdom by several "trickster guides" hailing from the future, they leap back into the world of the dead only to spend a hero's journey climbing out, finally returning to the strange American existence of 2020.
Completed in a converted shed near his new home base in Oakland after a rich decade in the Nashville underground fringes, the album features contributions from a now familiar cast of musicians from Richmond, Virginia's Spacebomb House Band, and an exciting new collaboration with New Orleans based vocal duo, The Lostines. Among the 10 tracks are a handful of early-to-mid-century traditional gospel songs recontextualized through the narrative of each "trickster guide." The result is a vade mecum on shaking survivor's guilt after fighting the battle of depression and staving off fears of a strange future on the horizon. By the end of the album, grief and wonder gleam like a golden scratch in the evening sky. To quote the late, great, fellow Virginian, and sadly missed David Berman: "that moment when you take off your sunglasses after a long drive and realize it's earlier and lighter out than you had accounted for."
In 2017, Wallace released Seen Comin' From a Mighty Eye, which NPR called "transcendent Americana." Beloved reissue label Light In the Attic (who also acted as distributor) described it as "a stew of cult movie sci-fi, cosmic boogie and psychedelic American music." In 2018, he paired up with Tennessee trad-country band, Teddy & the Rough Riders to record and release an Aquarium Drunkard Lagniappe Session. Later that year, Wilco invited Skyway Man to perform at their annual Solid Sound Festival at MASS MoCA. And recently he was enlisted by comedian/writer, Joe Pera, to compose music for the upcoming season of his critically-acclaimed Adult Swim TV show, Joe Pera Talks With You. This latest venture casts the cinematic aspects of Wallace's whole project in sharp relief, a quiet visual triumph received by a true cult audience. The soundtrack was released in early 2020.
Few artists take ownership of 'cosmic country' as literally as James Wallace. Few artists have as much to say, with such style and substance of sound. The World Only Ends When You Die is a Saturday serial of cosmic import, "...the River Styx as an amusement park that you ride over and over again." Eerily prescient for these pandemic times, the record offers a kind of relief--a vocalization of the alien realities that ripple under the surface of society through relatable, repeated mantras. Sometimes darkness in the mind, sometimes it leaves us.