Stateside/Psyko Steve/Live Nation
POSTPONED - SEPULTURA - N. American Tour w/ Sacred Reich, Crowbar, Art of Shock
April 6, 2021
7:00 pm
(Doors:

6:00 pm

)
Ages 13 and Up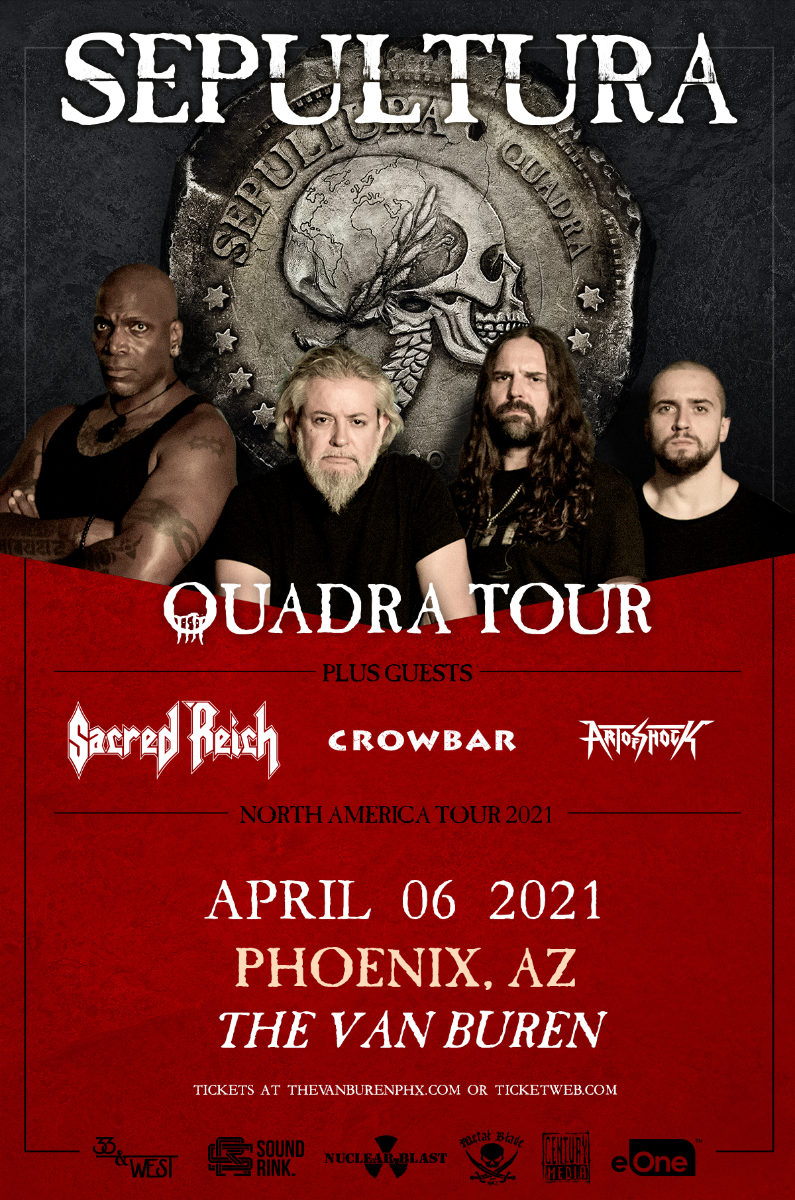 This event has been POSTPONED. Tickets from the original date (April 21, 2020) or rescheduled date (April 6, 2021) will be honored. Refunds available at point of purchase from April 9 - May 9, 2021.
Advance Price: $25 + fees / Day of Show Price: $30 + fees
This event is 13+ (12 & under admitted with parent/legal guardian)
Sepultura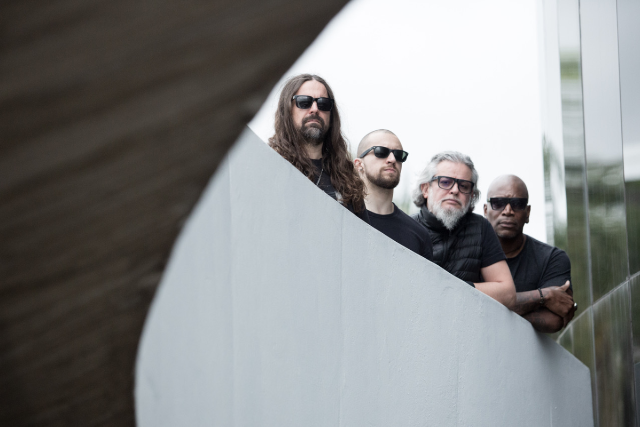 It goes without saying that the global metal scene would not be the same without SEPULTURA. For 35 years now, the Brazilian icons are not only a band revered worldwide; they have been, are and forever will be at the very forefront of Thrash Metal, trailblazing ever since they released their long-since legendary debut album "Morbid Visions" in 1986.While quickly establishing themselves as leaders of the second wave of Thrash already in the late eighties, to this day they never came even close to stagnation. "Quadra", their mighty new undertaking, is proof of a will unbroken, a thirst unquenchedand a quality so staggeringly high it's a wonder this band doesn't implode. Now three albums deep into what may very well be their strongest incarnation yet –uniting the talents of old-school members Andreas Kisser(guitars, vocals) and Paulo Xisto PintoJr.(bass), vocal force of natureDerrick Leon Green(vocals) and drummer Eloy Casagrande–SEPULTURAare an unleashed power to be reckoned with, uniting bucketloads of experience and youthful vigour in a totally revived way."On 'Quadra', we felt the urge to revisit that old thrash feeling of 'Beneath the Remains' or 'Arise',' only seen through the eyes of today,"Andreas Kisser utters the magic words. "Add to that the tribal percussion, the orchestral elements, the choirs, the melodies and the clean vocals and you get a thorough run-through of our entire career, backed by a very contemporary approach."Fuelled by an energy almost uncanny for a band that has been active for so long, SEPULTURAstorm through a contemporary thrash monument, backed by sublimemelodies, a very eerie atmosphere and a fiendishly high level of technicality. Kisseris appreciating these compliments, still maintaining his very down to earth approach. "We don't heed the past and we don't try to be preoccupied by the future too much,"he shrugs.
"We're in the now, trying every day to make SEPULTURA a little bit better. That's what keeping us strong."And that's what they have been doing for the last 30+ years. Album after album, tour after tour, no gap in between records longer than three years. "Music is all we do," Kisserstates matter-of-factly. "If it wouldn't be for SEPULTURA,"he laughs, "I would be a sad and lonely guy. SEPULTURA is what we are." And "Quadra"is living testimony to that. The old SEPULTURAecho through the very fibre of the songs in all its raw and morbid splendour, but yet it's the present, the experienced and refined beast that is SEPULTURAin 2020 that's blasting out thrash metal anthems for a fucked-up age."There is no reason to put out an album unless you've got something new to tell. A lot of bands out there are slaves of themselves, trying to repeat their formula. That's stupid! You have to respect the past but you are here now. So... do something different! I mean, we have an amazing history, we did so many different albums with different elements that all added up to the experience we gained over the years. And in the studio, we respect what we did but we are never afraid of trying out new things."With now 15 albums under their belts, SEPULTURAare the work horses of the metal world, always ready to attack. In many ways, "Quadra" broadens the vision the Brazilian thrash troopers had on "Machine Messiah"(2017), again relying on the impeccable talent of Swedish producing giant Jens Bogrenand his Fascination Street Studios. "He is so full of passion, it's unbelievable, man," Kisser raves. "He's really there, he really cares about the projects he's doing. For Sepultura, he's like the fifth member of the band. The chemistry was so amazing, 99 percentof what we were trying do to actually worked. That was insane!" Even after more than 30 years at the forefront of international thrash, guitarist Kissersounds positively baffled by working with Bogren. "We felt like we were in our rehearsal room."Bringing together a monumental grandeur and a wild, untamed ferocity, SEPULTURAstepped up their game musically –and conceptually as well. "We were possessed by the number four, by the numerology of it", Kisserstarts to explain. "I divided the album intofour parts as if we were doing a double vinyl. Side one is the pure and raw thrash side. Side two brings in the rhythms and percussion from our 'Roots' era. Three is getting a bit experimental and four brings forth the melodies and the acoustic guitars." With John North'sbook "Quadrivium"as a further source of inspiration, SEPULTURAdive deep into a mystical world full of hidden meanings. "You have four seasons and twelve month in a year just to pick one example. A lot of stuff in our culture is divided like that."Plus, Quadraalso is the Portuguese word for 'sport court' that by definition is a limited area of land, with regulatory demarcations, where according to a set of rules the game takes place," he adds. "We all come from different Quadras. The countries, all nations with their borders and traditions; culture, religions, laws, education and a set of rules where life takes place." In the Quadraof thrash, however, we all are the same. And we bow our heads in unison to the mighty leader that is SEPULTURA.
Sacred Reich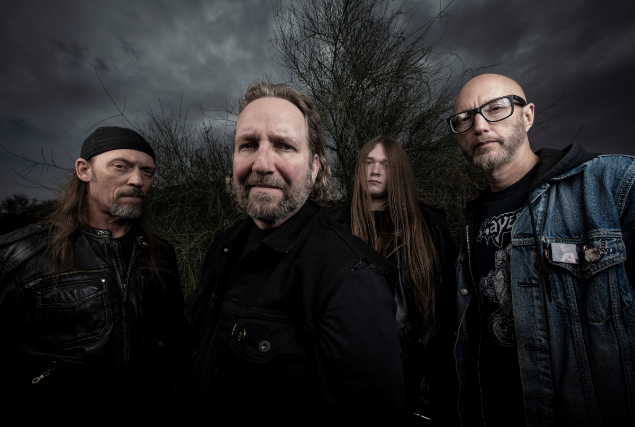 Crowbar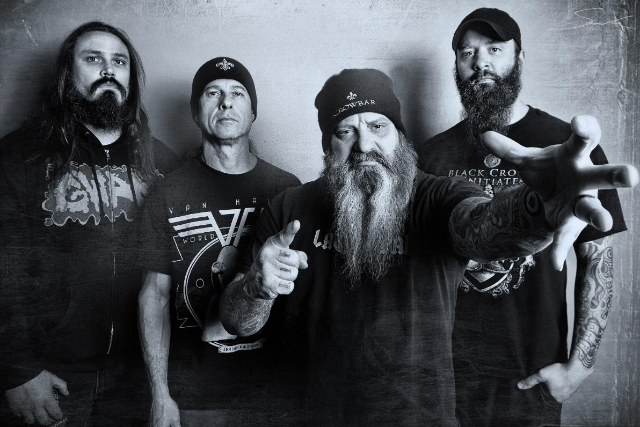 Twenty-three years after dropping their last full-length,Sacred Reichare returning in force with the toweringAwakening, effortlessly demonstrating that they remain a formidable force in metal. Showcasing everything a fan would expect and hope for fromthe Phoenix, Arizona crew, it is a timeless collection comprised of blistering thrash, crushing grooves, killer solos and socially conscious lyrics that demonstrate a true understanding of everything that matters most in the world today. "Going into it, we had a loose idea as far as knowing that we wanted some fast, heavy songs to honor the old school fans that have supported us and gotten us to this point," states vocalist/bassist Phil Rind. "We wanted everything to happen naturally. We didn't want to force anything and we are super stoked with every song. It is easily the best thing we have ever done."Formed in 1985,Sacred Reichwere an integral part of the 80s and 90s thrash movement, dropping four albums before splitting in 2000. They would go on to reform in 2006 but strictly as a live act, dropping theLive At WackenDVD in 2012, but it was only in 2018 that they started to work on new material. "Over the last year, we wrote and demoed the songs for the new record. Our drummer Dave (McClain, ex-Machine Head) was still on tour with his old band so our buddy Tim Radziwill played drums on the demos along with his son, Joey, and they recorded it all at their studio. We wouldn't be here today without their help, they helped get down the basic framework ofthe songs. They rule, and the whole process of recording was so positive, cool and fun." Being very much aware of how their approach to the record affected the outcome definitely played into the finished product. "Leading up to it, we talked about the fact that you can't separate the process from the result. Everything you do, how you do it, your attitude while you do it, all comes out in the end. So we tried to do things the right way –and by the right way, I mean, being open to what came."The return of Dave McClain, who manned the drum throne from 1991 to 1997, and the addition of Joey Radziwill playing guitar, alongside original guitarist Wiley Arnett, are integral facets of the record. "Dave is such a killer drummer and person. He works every day to become a better drummer, and I mean every day. His work ethic is inspiring. As much as he has accomplished, he is still open to what comes. Being in the studio with him was amazing, watching him try different things and being brave and creative on the spotwas incredible to watch. He has brought so much happiness and positivity to Sacred Reich." The 22-year-old six-stringer Radziwill demonstrates a skill and maturity far beyond his years, having played drums in a band and completed three US tours in the back of a van prior to hooking up withSacred Reich, so is far from "new" to this world. "From being a drummer, his timing is impeccable. He brings a higher level of musicianship and tightness to our band, and he brings a freshness to us. He gives us an opportunity for us to see things from a different perspective, and all of us were blown away by what he can do with a guitar and how effortlessly he does it. His right hand is a buzzsaw. You show him something once and that's it. He came into the studio, which can be very intimidating, and just breezed through it like a 25-year pro."Always having been drawn to album titles that work on multiple levels,Awakeningis no different, referring to not only the band recording again for the first time in more than two
decades, but also the lyrical themes on the record. "It encapsulates what I feel is the most important thing we all can do: we can all do a better job of simply paying attention." Lyrically, though there is a lot of aggression scattered across the tracks,there is also a great deal of positivity and hope, most notably in "Manifest Reality" and "Revolution", the latter referencing the importance of maintaining a positive mental attitude, not giving up and plainly stating "it's time for revolution". Given the current state of the world, Rind believes staying positive is more important than ever. "There is a lot of fear, anger and division going around. At the same time, there are plenty of beautiful, incredible things happening right in front of us, day afterday. So if we choose to be optimistic, focus on positive things and understand that it's all temporary, good and bad anyway, we can enjoy our lives and be more kind and loving to each other. 'Manifest Reality' says, 'Be the change you want to see'. I really can't say anymore than that." With "Something To Believe" the record ends on a particularly uplifting high, both in terms of mood and richness of melody. "It was never intended to be the closing track, but it is wonderful that it worked out that way. The fact that I can sing 'Love's the only way to live our life each day' in the last verse is a perfect encapsulation of what the record is about."To track the album, the band headed into Platinum Underground in Mesa, AZ, and employed producer Arthur Rizk (Power Trip,Cavalera Conspiracy) and engineer John Aquilino, Rind insisting both played integral roles in shaping the sound ofAwakening. It was a particularly special time for the front-man and Arnett, being in the studio together for the first time after such an extended absence. "The first day we tracked almost felt like a dream. We would just look at each other and smile and say, 'We're doing this!'. 23 years is a long time, but it felt right and natural. Wiley is such an immense talent. He has a very unique sound and feel. He has great hands and vibrato, and his leads are so tasty and such an integral part of our sound. We are lucky to have him, and I love him." The sessions that followed were a genuine pleasure for all concerned, everything flowing out of the players. "I really hit my stride recording the vocals when I just relaxed and let it happen. In the beginning, I was pushing and trying too hard. When I finally understood all I had to do was sing the songs, it happened quite naturally. John and Arthur, who make records all day, every day, commented throughout the process how great and unique the whole thing was. Regardless of what happens with the record, the experience of making it was enough to satisfy us. Obviously we hope people like it, but even if it tanked, it could not change the way we feel about it. We know what we did."
Art of Shock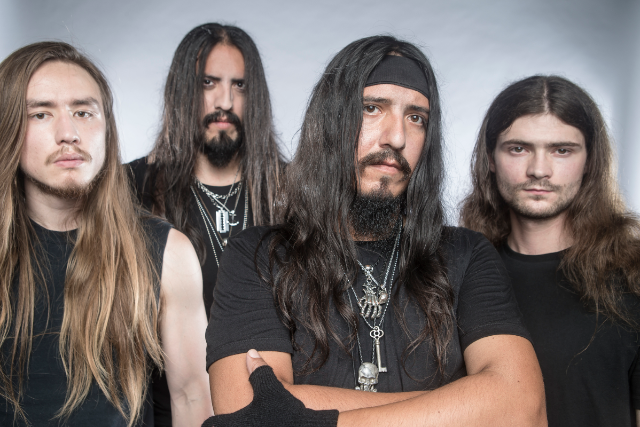 Dark Angeles. Not merely a play on words, but a statement on what lies beneath the sunshineand sheen of the California dream. Art of Shock are a band with the sheer will anddetermination to make it even amidst that backdrop of broken dreams. "There's a desperateheartbeat that comes with life in Los Angeles," says Art of Shock guitarist and frontman, ArtGeezar. "People come here with big dreams and very little else. It makes them do shitty thingsjust to get by. It's a desperate place."Art of Shock's Century Media debut, Dark Angeles, churns with that intensity of the city of(fallen) angels. AOS' hard-luck and hard-won story begins in Mexico City, where Brothers Artand drummer Adrian Geezar grew up; inspired by classic thrash and metal bands became thefuel for their earliest musical endeavors. Moving to Los Angeles only served to push the nascentArt of Shock. "I booked a show [at the Whiskey A-Go-Go] without having a full band!" Adrianrecounts. Making a few friends and pulling together a scrappy line-up, Art of Shock began tomake a dent playing in Hollywood. "It's one of the three places you know to go to, to playmusic," says Adrian. "Plus, it was closer and cheaper than New York and London!" Beingperennial outsiders, the brothers didn't give a shit about playing the "cool" spots in town. Theymade friends and played to whomever would have 'em. "It felt like we were the house band atThe Whiskey for a time," says Arturo. "We didn't know or care where we played – as long asthere was a stage there." As members drifted in and out of the band, Art of Shock found theirsound – growing harder and faster, and faster.The Geezars sheer determination, early in the band's career, earned Art of Shock a spot on the2013 Vans Warped Tour. Firing off a blind email to Warped founder Kevin Lyman won them aslot on the tour's Ernie Ball stage in exchange for manning the grill at each post-show Warpedbarbecue. "It was the best way for us not to lose money!" laughs Adrian. We didn't realize wewere going to be feeding hundreds of people each night. It was hard but it was worth it. Wewere the weirdos of the tour. We were this metal band playing in front of kids who were there forpop punk and screamo – but somehow we ended up selling 3000 CD's!"The hard work paid off – slowly. Shows around Southern California, opening for the likes ofTrivium and Cavalera Conspiracy ("We really related to their story as brothers growing up," saysArt) garnered Art of Shock fans and a reputation as one of L.A.'s top metal bands, standingapart from the hordes of backyard thrashers and Echo Park hipsters. "We started on the SunsetStrip and aren't ashamed of that," says Art. In fact, it was at a show at The Roxy opening forSacred Reich and Hirax that Art of Shock (now rounded out by lead guitarist Nick Ertel andbassist Brice Snyder) caught the attention of Century Media Records, who signed the bandshortly afterwards. "Century Media was a name we had grown up with as kids," says Adrian."Our 'Inner Kid' was super-super stoked when the possibility of working with the label cameabout!"Enter nearly a year of painstaking writing and rewriting as Art of Shock rose to the challenge oftheir new label home. Songs were written, honed, rewritten and tossed by the wayside as theband worked away in a cramped, North Hollywood rehearsal space. They walked out a
stronger, more focused unit: ready to travel to Nashville to work with producer and mixer, MarkLewis, who had already distinguished himself with his work with the likes of Megadeth, CannibalCorpse and The Black Dahlia Murder. "Mark really pushed us to the limits," states Arturo. "Hereally know what he was doing in terms of getting the best performances out of us.""We wanted to make a record that wasn't just another thrash record," adds "Adrian. "We have alot more aspects to our sound, growing up on rock, punk and metal and we wanted all of that tocome out in the record and sound modern at the same time. Mark really helped us deliver that."From the roaring-out-of-the-gate riff to opening track, "Cast a Shadow", it's apparent that Art ofShock's first full-length album is a more amped-up proposition than any old friends or fans couldhave possibly expected. With drums and guitars pushing each song into "the red", Dark Angelescareens with the sort of energy that backs up You can hear it Art's riffs, Adrian'sjust-on-the-verge drumming and Nick's fluid guitar work. Art of Shock's hard work anddetermination. "Execution Song" flips the switch into mid-tempo riff-ride before the title trackpicks things up into scalding sonic territory. Through it all, the band never sacrifices melody ormusical chops as Art's slightly accented snarl gives way to passionate, singalong choruses alaclassic Megadeth fueled on the intensity of early Sepultura. Top it off with a bombastic cover ofIggy Pop's anthemic (and in AOS' case, all-too-appropriate) cover "Lust for Life" and DarkAngeles is every bit the classic debut that the Geezar brothers fought and scraped their waythrough the "jungle" that everybody from Guns N Roses to the streetpunks on HollywoodBoulevard have welcomed us to and warned us about. "Even the people we see who havecome here and made it are still a little bitter and cynical about this place," says Art. "It's a toughcity but in our time living here we've learned that you can't give into that – you've got to takeevery challenge to the limit!""The process of making this album really solidified the band," adds Art. "We became a gang -we actually all live together in the same house now!" Art of Shock's story is every bit the classictale of a band arriving in Los Angeles, taking on every challenge in front of them with integrityand a genuine "fuck-all" attitude. They're not about to give up any time soon